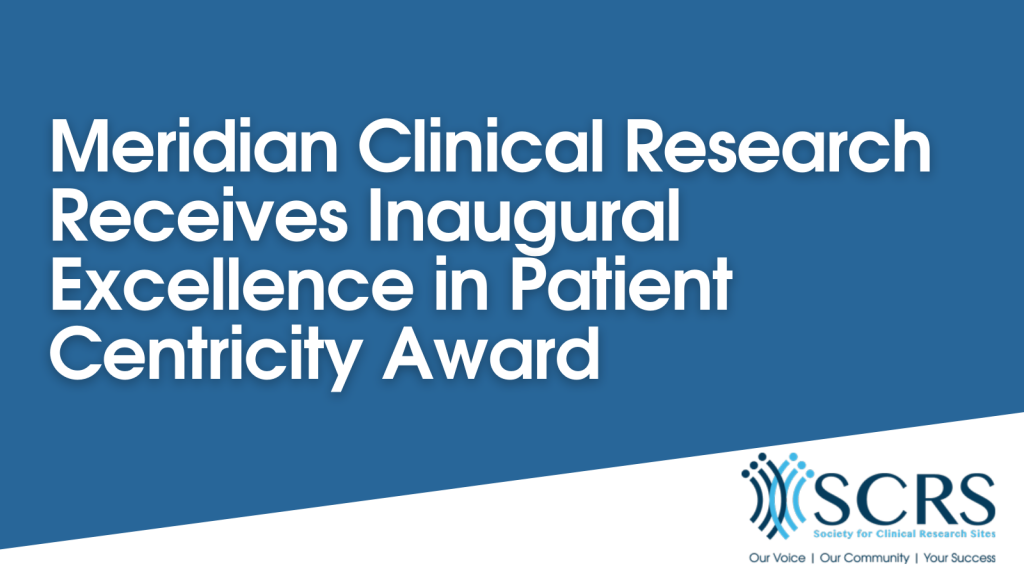 Contact:
SCRS Communications
Society for Clinical Research Sites
410.696.5080 x150
FOR IMMEDIATE RELEASE
Meridian Clinical Research Receives Inaugural Excellence in Patient Centricity Award
Hanover, MD, October 5, 2021 – Today the Society for Clinical Research Sites (SCRS) is pleased to announce the winner of the inaugural Excellence in Patient Centricity award, Meridian Clinical Research. The new award, sponsored by Sanofi, was created to celebrate a clinical research site that places patient experience at the center of its operations.
Vicky DiBiaso, Global Head, Patient Informed Development and Health Value Translation at Sanofi shared, "By instituting this new award, we are affirming our commitment to listen and translate patient insights into action – developing innovative healthcare solutions with meaningful outcomes, addressing unmet needs and promoting better health and quality of life for people everywhere. Congratulations to Meridian Clinical Research for their innovative patient-centric approach."
SCRS Global Impact Partners (GIPs) and site members cast their nominations for the award, which was eligible to any active SCRS member site. Through an independent judging panel, the winner was selected to receive the award at the SCRS Eagle Award Gala held during the annual SCRS Global Site Solutions Summit on Saturday, October 2, 2021. Laura Falcone, COO, and Ellen Price, Director of Patient Engagement at Meridian Clinical Research accepted the award on behalf of the organization.
"Operationally and culturally, incorporating the voice of the patient has only ever made Meridian stronger," said Falcone. "Trials, technology, and expectations of participants evolve so quickly — we've made it a priority to constantly ask patients about their experience and try new things that could improve that experience."
Allyson Small, SCRS COO, added "SCRS is thrilled to celebrate Meridian Clinical Research for their demonstrated and consistent commitment to patient centricity. Enhancing patient experience is critical for the clinical research industry and we applaud Meridian Clinical Research for their forward-thinking, patient-focused programs."
For more information about the Excellence in Patient Centricity Award and the SCRS Global Site Solutions Summit, visit sitesolutionssummit.com.
###
About Meridian Clinical Research
Meridian Clinical Research partners with pharmaceutical and biotechnology companies to research new drugs, medical devices, and diagnostics that could improve human health and wellbeing. Founded in 1999, Meridian is a multi-specialty site network headquartered at its dedicated research center in Omaha, NE, and conducts Phase 1-4 studies at investigative sites nationwide. Meridian supports research across numerous therapeutic areas and excels in high-volume vaccine trials. For more information, visit mcrmed.com.
About Society for Clinical Research Sites
The Society for Clinical Research Sites (SCRS) is a global trade organization founded in 2012 which represents over 9,500 research sites in 47 countries. SCRS' mission is to unify the voice of the global clinical research site community for greater site sustainability. As an influential voice for sites and an active partner in industry-wide initiatives and dialogues focused on improving the clinical research enterprise, SCRS membership provides sites with a community dedicated to advocacy, education, mentorship and connectivity. For more information, visit MySCRS.org.