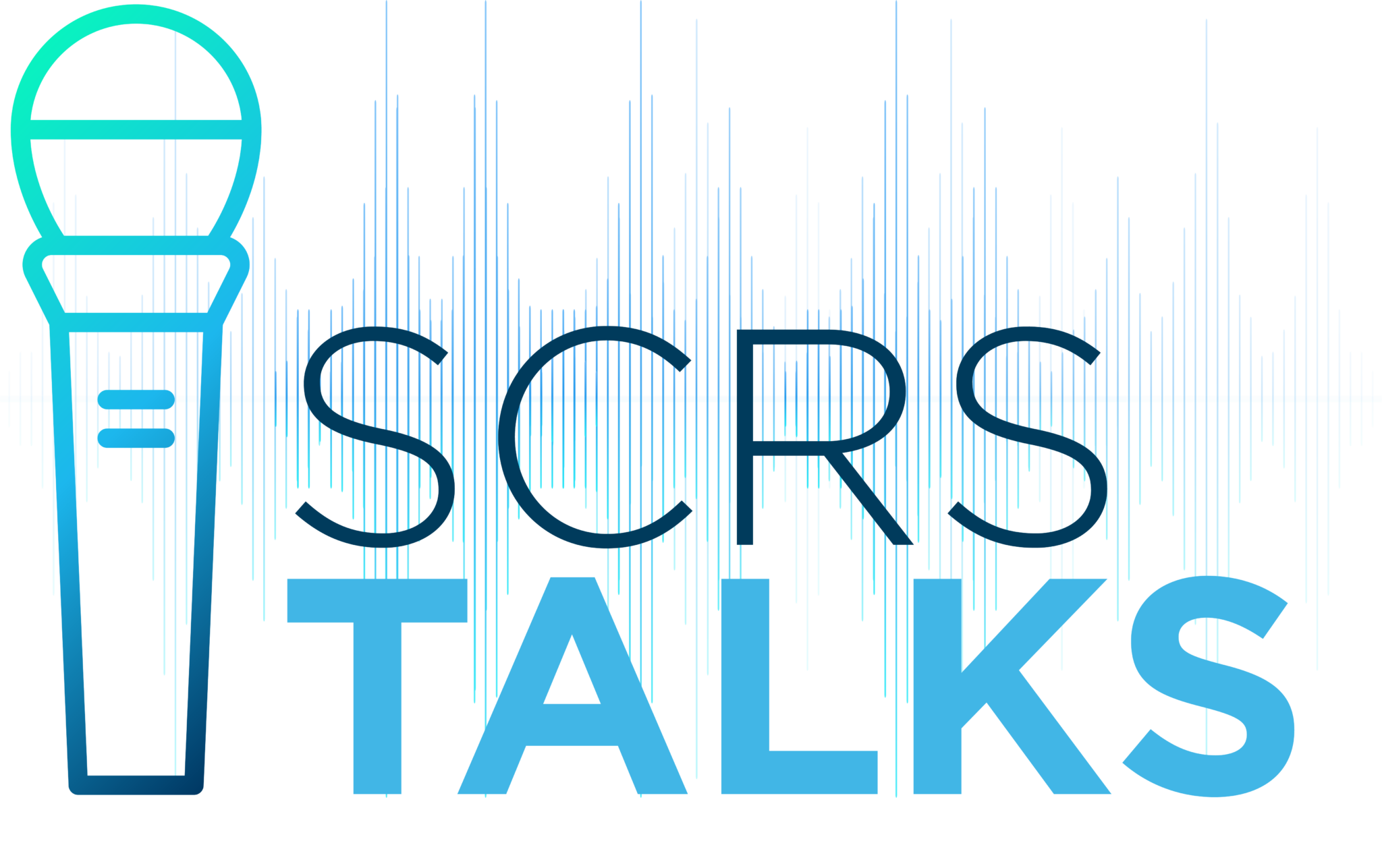 The SCRS Talks podcast shares valuable industry insights from SCRS members and partners. These interviews address trending industry topics, current events, new perspectives, and exciting opportunities.
Interviews will be available on all major networks including Google Podcasts, Spotify, and Apple Podcasts
If you are a GIP or SCRS member and would like to submit a proposal for an SCRS Talks interview, use the link to the form below.
Do you have an interview topic proposal?
A Chat with Michele Cameron, 2021 Christine K. Pierre Site Impact Award Winner
---
October 25, 2021
The Christine K. Pierre Site Impact Award recognizes an industry leader who has made tremendous contributions to the site community through their dedication, actions and innovation. They exemplify the mission of SCRS to unify the voice of the global clinical research site community for greater site sustainability and uphold the pillars of SCRS by supporting the education, advocacy, mentorship and connection of clinical research sites. Michele Cameron, BSN, MBA, CCRC, Director of Clinical Research at Clearwater Cardiovascular Consultants, embodies the essence of this award. We sit down with Michele, this year's CKP Site Impact Award recipient, to learn about her site, how she has grown that organization to what it is today, and how winning this award has impacted her and her site.
Diversity in Oncology - Changes That Impact the Industry & What Must Be Done
---
October 11, 2021
We sit down with Stacey Bledsoe, Advisor for Clinical Trial Diversity at Eli Lilly and Company (Lilly), to talk about what is being done in the industry to advance diversity in clinical trials. Stacey touches specifically on some of the work Lilly is doing, as well as diving specifically into the Oncology therapeutic area. The needs of this community are different, yet just as important as others yet at times does not get the attention it needs. Stacey gives us lessons that we can apply to our trials at both the Sponsor and CRO level, as well as the site community.
2021 Global Site Solutions Summit Preview
---
September 14, 2021
Kay Scroggins, President and CEO of Clinical Trials of Texas and the SCRS 2021 Global Site Solutions Summit chair shares what she is most excited about for this year's Global Summit in Hollywood, Florida. Tune in as we discuss can't-miss sessions and how attendees can maximize their experience at the Summit.
SCRS Diversity Awareness and DSAT - The Future of Diversity in Trials
---
August 3, 2021
The importance of diversity in clinical research has been a hot topic in the industry for many years. Led by Diana Foster, SCRS' Vice President of Special Projects and Strategy, SCRS established its Diversity Awareness Program in 2016 and has developed several tools to further this important industry initiative. In this episode, Foster also discusses the program's newest accomplishment, the Diversity Site Assessment Tool (DSAT) – an assessment that provides guidance for clinical research sites to improve their ability to recruit diverse patient populations in trials.
Learn more about the program at https://myscrs.org/learning-campus/diversity-in-clinical-trial
SCRS Global Summit Preview - 2020 SPRIA and Site Tank Recipient Reflection
---
July 8, 2021
Each year at the Global Site Solutions Summit, SCRS selects the Site Patient Recruitment Innovation Award (SPRIA) and Site Tank award winners. Hear from last year's recipients, Clinical Trials of Texas and Accelerated Enrollment Solutions (AES), respectively, as they reflect on what receiving these awards has done for their site, how they have tackled the challenges 2020 presented, and what they are doing as they look to the future.
For more information on SPRIA or Site Tank, visit sitesolutionssummit.com
2021 Asia-Pac Site Solutions Summit Preview
---
June 29, 2021
SCRS has an exciting Asia-Pacific Site Solutions Summit planned for July 13-14, 2021! Although we cannot be together in person down in Melbourne, Australia, our virtual experience will provide two days full of interactive and informative sessions. Tam C. Nguyen, FRSPH, FAIM, F. AustRMS, PhD, MBA, and Summit Chair for the 2021 SCRS Asia-Pac Site Solutions Summit, shares why you should consider joining us for the virtual Summit, how to maximize your experience, and some of the engaging and industry-leading session topics we have planned for attendees this year.
Clinical Trials Day Interview with Pfizer
---
May 16, 2021
Clinical Trials Day is a special occasion for SCRS. This year, we took time to reflect on what being part of this important work means to us and the tremendous challenge that our industry overcame in 2020 and early 2021. When we stopped to think of truly inspiring and innovative progress that was made in spite of these challenges Pfizer was the first organization that came to mind. We had the opportunity to speak with Liz Rogers, Vice President and Head of Global Site and Study Operations and Sarah Tweedy, Vice President and Head of Vaccine Clinical Operations at Pfizer about what they think the future of research is and how their organization adapted and quickly became a household name in COVID-19 vaccine development.
SCRS European Site Solutions Summit Preview
---
April 13, 2021
The 2021 European Site Solutions Summit is upon us! SCRS has some world-class content planned for this year's summit, being held as a virtual experience April 20, 21, and 22nd. We sat down with Vivienne van de Walle, the European Site Solutions Summit program chair and the Owner and Medical Director at PT&R, a site in the Netherlands to learn about what this upcoming summit has to offer attendees and why she is excited for this year's summit.
SCRS Global Oncology Summit Preview
---
February 8, 2021
The 2021 Global Oncology Site Solutions Summit, Virtual Experience will be one to remember. Although we can't be together in person this year, SCRS is showcasing some great content this year that will help the Oncology community take their work to the next level. Hear from the SCRS Oncology program chair, Archana Sah as she teases some of the great content taking place at this year's Oncology Summit.
Clinical Trial Innovation
---
October 5, 2020
"Innovation" is a term often used to describe many things, particularly in the clinical research space. Our industry's need for meaningful innovation has never been more apparent than it is right now. We sit down with Craig Lipset, the Managing Partner of Clinical Innovation Partners and Assistant Professor of Health Informatics at Rutgers University to discuss what innovation looks like and how this has changed as a result of our pandemic. As A teaser to his keynote presentation at the 2020 Global Site Solutions Summit, Craig will also highlight some of the key points he will address at his talk.
Negotiating with Sponsors
---
September 28, 2020
Understanding the nuances and proper tactics for negotiating a budget with a clinical research trial pharmaceutical sponsor could be considered an art to some. We sit down with Dawn Pittinger at BioOptronics to discuss and learn where the current state of negotiating with a sponsor is in today's rapidly changing world, as well as tactics that can be employed to help assure success at the research site level.
Subject Recruitment Challenges in the COVID-19 Era
---
August 31, 2020
Recruiting clinical research patients is often times a tremendous challenge for a site. In the era of COVID-19, this problem has only grown more difficult to manage. Matt Miller, President of StudyKik discusses what these challenges are and how they are different in our current environment as well as ways to overcome those unique challenges. It is critically important to understand how recruitment is changing and what can be done to meet this situation head-on. Finding patients and assuring their safety and making the experience as convenience as possible is of utmost importance and Matt discusses how we can address this.
Remote Access to Research Sites - Virtual Site Monitoring
---
August 17, 2020
For years, sites have been talking about and navigating through traditional remote site monitoring, where a Clinical Research Associate (CRA) from a Sponsor or CRO performs monitoring activities remotely, over the phone and via email to reduce trips to the site. However, in the age of decentralized trials companies have pioneered a new ways to effectively monitor sites remotely. In comes VirtualPreSite and their glasses technology, allowing remote views into the sites. We sit down with Deric Frost, VirtualPreSite's Head of Virtual Site Monitoring to discuss how this technology is changing the way trials are monitored.
Cyber Security in the Age of a Pandemic
---
August 3, 2020
As many in the clinical research industry adopt work-from-home policies in response to the COVID-19 pandemic, it is a critical time to consider the cyber security of your work. There are people out there looking for opportunities to take advantage of the situation and are attempting to hack our computers and access business data. It is important that businesses consider cyber insurance as added protection. Hear from our partners at Hylant as they discuss what this means for you and the best steps your business can take.
Keys to Quality in Regulatory Work, Even During a Pandemic
---
July 20, 2020
In terms of the service the site provides to the sponsor of a study, regulatory work is of utmost importance — and many times a defining factor of service quality overall. Especially in the time of COVID, regulatory teams are burdened with figuring out how to make sure this critical work is done and done well even when everyone involved is not in the same room. But, many regulatory teams have figured out that there are issues beyond simply where people are working that are plaguing the quality of this work. So how do regulatory teams provide the highest quality especially during this time? We decided to ask an expert – Rick Arlow, founder of Complion.
Recruiting Precision Oncology Trials
---
July 13, 2020
Oncology trials present a unique challenge in the clinical research space, particularly when it comes to patient recruitment. The identification windows are narrow, yet participation in precision trials can have life saving options for many patients with an unfortunate diagnosis. The CEO and Co-Founder of Deep Lens, Dave Billiter talks with us about how this recruitment is such a challenge and what tools may be available to help this process as well as how communication is key to running a successful recruitment campaign.
Decentralized Trials in a Post COVID-19 World
---
July 6, 2020
Decentralized clinical trials in a post COVID-19 world are undoubtedly here to stay. Recent events have had a drastic effect that is likely lasting as it relates to trials at the site levels. This can be a positive thing. Much of what sites can do now is prepare for this new future and VirTrial's Senior Vice President of Business Development, Amanda Rangel talks with us about just that. There is much to do, and now is the time to do it so that you are ready for what is coming and the future of clinical trials.
The Problems with Clinical Trial Budgeting: Get your Ducks in a Row
---
June 29, 2020
Budgets for clinical trials are always a highly discussed topic and one that SCRS regularly addresses with our partners on behalf of sites. Catherine Click, Greenphire's director of clinical pricing and analysis talks with us about how sites can "get their ducks in a row" to better negotiate and justify their study budgets. Not only can sites be more effective in their negotiations, but we also discuss some ways to better speed the time it takes to negotiate that budget. Having the data and information to back your fees is a critical component of which this interview discusses.
The Power of Remote Site Monitoring and Data Review
---
June 22, 2020
IQVIA Technologies is focused on using innovation to enable better relationships with sites. Part of this strategy is centered around remote data monitoring strategies to address reducing staffing and CRA mobility. MaryAnne Rizk, PhD with IQVIA Technologies discusses how these technologies ensure patient and staff safety amidst the current pandemic, as well as how we can all work better to keep current clinical trials on track. We also look to the future and how artificial intelligence and machine learning can begin to see their day at sites.
Every Trial is in Rescue - Engagement is the Key to Future Success
---
June 15, 2020
Amidst these interesting times in the age of COVID-19, we know that this has already affected sites, CRO's and Sponsors. It's not over yet and we don't know the long-term impact from the disruption. What we do know is that all stakeholders are repositioning, trial continuity is front and center, and sites are focused on site and study sustainability through retention efforts and are quickly adopting decentralized methods. Circuit Clinical's CEO Irfan Khan sits down to discuss what patient engagement of the future will look like and how can engagement be applied to the site of tomorrow.
Connecting Patients, Sites, and Sponsors to Improve Clinical Trials
---
June 8, 2020
COVID-19 has highlighted a need for patients, sites, and sponsors to work together more effectively and remotely. Yet, efforts to do so are often limited by systems and processes that limit data sharing and collaboration. We're sitting down with Bree Burks from Veeva Systems to discuss new opportunities to address this challenge by making it easier for study partners to work together across the full clinical trial life cycle. From their unique prospective, we explore some of the unique challenges the industry is facing and where there are opportunities for the future.
Virtual Monitoring - Shifts and Changes in the Face of COVID-19
---
June 1, 2020
We sat down with Lauren Litzinger at Pfizer to discuss virtual monitoring of clinical research sites and studies. We are seeing a shift in how monitoring is being conducted in the wake of COVID-19 and the requirement for so many activities to go virtual and digital. Monitoring is no exception. Various options for data verification and review are discussed, as well as what are some of the changes being seen at the pharmaceutical sponsor level.
Deploying Digital Technologies to Boost Support to Sites During COVID-19
---
May 25, 2020
IQVIA Technologies has focused on three important areas for deploying technology to support sites. Melissa Easy from IQVIA discusses with us how technology is affecting sites, sponsors, and CROs and how their approach to technology is changing the relationship. The focus has to be on how technology can make the lives of sites easier, and addressing the concerns sites have specifically around payments and finances. Having one place to direct sites in order to help navigate virtual challenges and technology is one such specific solution proposed by IQVIA.
The Patient's Voice - A Clinical Trials Day and Melanoma Month Special Feature from two Melanoma Survivors
---
May 20, 2020
In this special Clinical Trials Day and Melanoma Month feature, hear from two Melanoma survivors as they discuss the insurmountable odds faced by their diagnosis and subsequent illness. The challenges they faced with not only the initial treatment, but also those experienced by the clinical trial process. Both T.J. Sharpe and David Aizer share their unique perspectives on their journey's and the different paths that they took that shared some astounding similarities. Yet with all of this adversity they faced, they maintained a positive attitude and outlook, refusing to let their conditions get the best of them. These survivors help us in the clinical research industry maintain intention and focus as we work to safely speed the execution of clinical trials because we know that patients are waiting for the medicines of tomorrow.
Virtualization of Clinical Trials
---
May 18, 2020
With the immediate and pressing need for sites to incorporate virtual elements, we talked with Anthony Costello at Medidata on what is being done in the industry to support the new way of performing clinical trials. Discussion centers around unified platforms and how these types of solutions can be beneficial for not only sites and patients, but the entire industry. There are several advantages of unifying services and tools at the site level and we discuss what some of those may look like.
The Ever Growing Environment of Virtual Trials
---
May 11, 2020
Clinical trials are moving towards trends of using more and more technology, even before COVID-19. This trend doesn't mean the role of the site has diminished, but just changed. What tools do sites need to help them succeed? How can flexible payment systems, direct-to-patient services, and telemedicine platforms enable site success? Greenphire's Zach Hales discusses the different ways in which we need to start thinking to support patients where they are – in the clinic, the lab or in their home. Using technology to move research sites forward is critical to the growth of our industry.
Sponsors are Transitioning to Direct-to-Patient Trials – Are you Prepared?
---
May 4, 2020
In an effort to ensure clinical trial continuity in the midst of COVID-19, more and more sponsors are moving towards Direct-to-Patient models to ensure patient access to medications. In order for sites to adequately prepare for this new approach, it is imperative to understand current trends and challenges as sponsors are approaching these models differently depending on their study and supply chain considerations.
The Future of Risk Management for Sites
---
April 27, 2020
The Covid-19 pandemic caught everyone by surprise. Now that some time has passed and we are acclimating to the current climate, what should sites be thinking about when it comes to risk management and insurance?
This is not just an insurance discussion – it's a discussion about risk. This includes the increased use of telemedicine and prevalence of decentralized clinical trials. This final interview with Hylant will help sites make important decisions regarding these matters
Site Participation in Decentralized Clinical Trials
---
April 21, 2020
It pays to be prepared, especially in uncertain times. As sites struggle to maintain patient visits and keep trials moving forward amidst COVID-19, many are turning to remote monitoring and other elements of decentralized clinical trials (DCTs) to ensure their doors stay open. This SCRS Talks interview with Global Impact Partner (GIP) VirTrial provides insight into how sites can prepare to participate in DCTs or incorporate virtual visits into their trials. Listen in as VirTrial's Director of Business Development, Emil Hoeck, discusses industry trends related to COVID-19, identifies best practices for going virtual to support your site's sustainability, and addresses why now is the time to become virtual trial capable.
Keeping the Doors Open: An Interview with Hylant
---
April 6, 2020
The COVID-19 pandemic is a serious situation requiring careful navigation, and many companies associated with clinical trials are struggling to keep their doors open. How am I going to survive the next few months? What questions do I need to be asking? Who can I rely on for accurate information and guidance? Learn from Hylant as they sit down with SCRS to discuss how this is impacting sites, specifically their insurance policies.