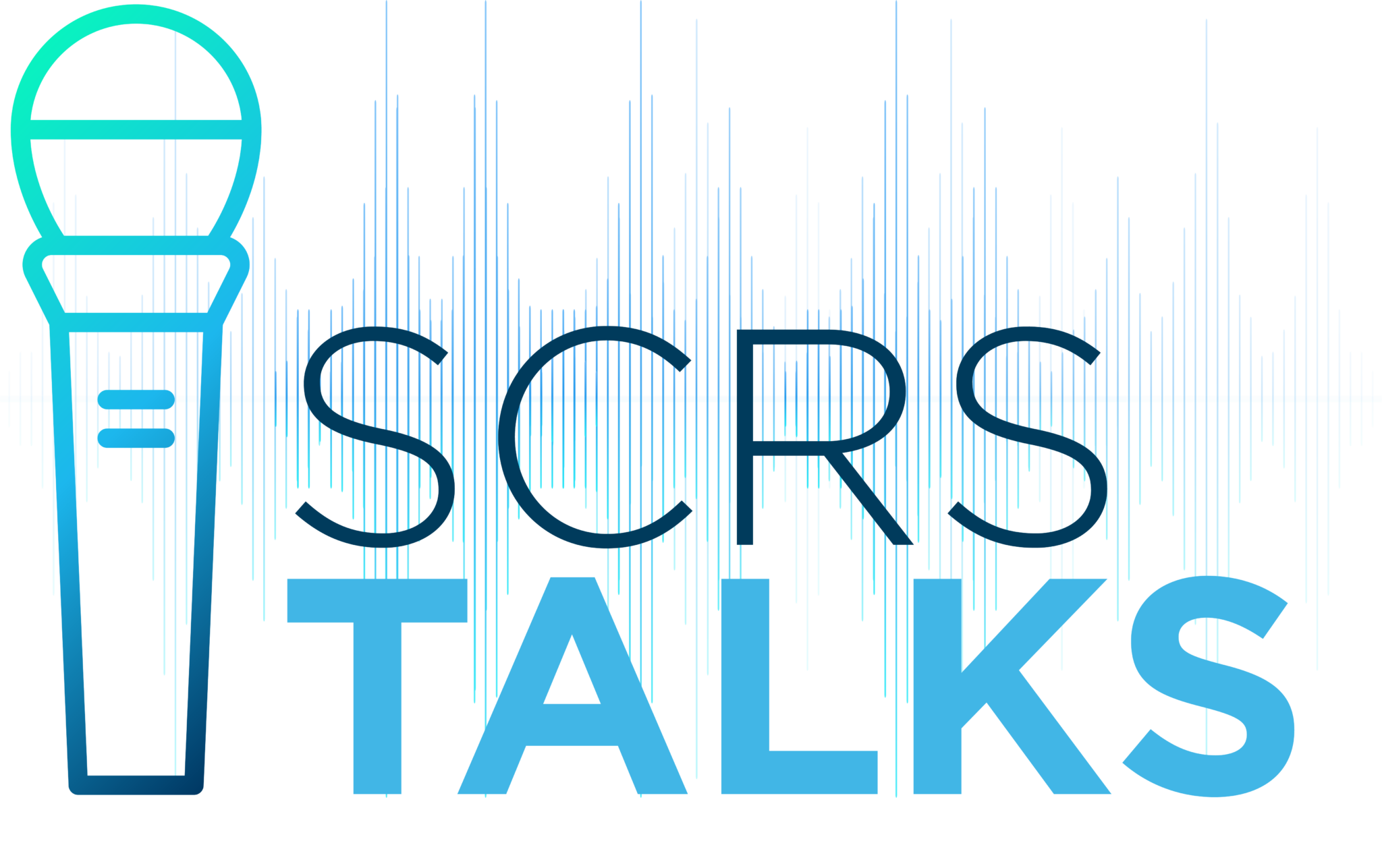 SCRS Talks is a platform for sites to hear about valuable information from our Partners in a quick, interview format. Our partners have important updates that SCRS knows you would love to hear about. These short interviews will provide insight into key industry topics, current events, new perspectives, and exciting opportunities.
These interviews will also be available via PodCast on all major networks including Spotify and Apple PodCasts.
If you are a GIP and have interest in submitting a proposal to offer an SCRS Talks interview, use the link to the form below.
Do you have an interview topic proposal?
Virtual Monitoring - Shifts and Changes in the Face of COVID-19
---
June 1, 2020
We sat down with Lauren Litzinger at Pfizer to discuss virtual monitoring of clinical research sites and studies. We are seeing a shift in how monitoring is being conducted in the wake of COVID-19 and the requirement for so many activities to go virtual and digital. Monitoring is no exception. Various options for data verification and review are discussed, as well as what are some of the changes being seen at the pharmaceutical sponsor level.
Deploying Digital Technologies to Boost Support to Sites During COVID-19
---
May 25, 2020
IQVIA Technologies has focused on three important areas for deploying technology to support sites. Melissa Easy from IQVIA discusses with us how technology is affecting sites, sponsors, and CROs and how their approach to technology is changing the relationship. The focus has to be on how technology can make the lives of sites easier, and addressing the concerns sites have specifically around payments and finances. Having one place to direct sites in order to help navigate virtual challenges and technology is one such specific solution proposed by IQVIA.
The Patient's Voice - A Clinical Trials Day and Melanoma Month Special Feature from two Melanoma Survivors
---
May 20, 2020
In this special Clinical Trials Day and Melanoma Month feature, hear from two Melanoma survivors as they discuss the insurmountable odds faced by their diagnosis and subsequent illness. The challenges they faced with not only the initial treatment, but also those experienced by the clinical trial process. Both T.J. Sharpe and David Aizer share their unique perspectives on their journey's and the different paths that they took that shared some astounding similarities. Yet with all of this adversity they faced, they maintained a positive attitude and outlook, refusing to let their conditions get the best of them. These survivors help us in the clinical research industry maintain intention and focus as we work to safely speed the execution of clinical trials because we know that patients are waiting for the medicines of tomorrow.
Virtualization of Clinical Trials
---
May 18, 2020
With the immediate and pressing need for sites to incorporate virtual elements, we talked with Anthony Costello at Medidata on what is being done in the industry to support the new way of performing clinical trials. Discussion centers around unified platforms and how these types of solutions can be beneficial for not only sites and patients, but the entire industry. There are several advantages of unifying services and tools at the site level and we discuss what some of those may look like.
The Ever Growing Environment of Virtual Trials
---
May 11, 2020
Clinical trials are moving towards trends of using more and more technology, even before COVID-19. This trend doesn't mean the role of the site has diminished, but just changed. What tools do sites need to help them succeed? How can flexible payment systems, direct-to-patient services, and telemedicine platforms enable site success? Greenphire's Zach Hales discusses the different ways in which we need to start thinking to support patients where they are – in the clinic, the lab or in their home. Using technology to move research sites forward is critical to the growth of our industry.
Sponsors are Transitioning to Direct-to-Patient Trials – Are you Prepared?
---
May 4, 2020
In an effort to ensure clinical trial continuity in the midst of COVID-19, more and more sponsors are moving towards Direct-to-Patient models to ensure patient access to medications. In order for sites to adequately prepare for this new approach, it is imperative to understand current trends and challenges as sponsors are approaching these models differently depending on their study and supply chain considerations.
The Future of Risk Management for Sites
---
April 27, 2020
The Covid-19 pandemic caught everyone by surprise. Now that some time has passed and we are acclimating to the current climate, what should sites be thinking about when it comes to risk management and insurance?
This is not just an insurance discussion – it's a discussion about risk. This includes the increased use of telemedicine and prevalence of decentralized clinical trials. This final interview with Hylant will help sites make important decisions regarding these matters
Site Participation in Decentralized Clinical Trials
---
April 21, 2020
It pays to be prepared, especially in uncertain times. As sites struggle to maintain patient visits and keep trials moving forward amidst COVID-19, many are turning to remote monitoring and other elements of decentralized clinical trials (DCTs) to ensure their doors stay open. This SCRS Talks interview with Global Impact Partner (GIP) VirTrial provides insight into how sites can prepare to participate in DCTs or incorporate virtual visits into their trials. Listen in as VirTrial's Director of Business Development, Emil Hoeck, discusses industry trends related to COVID-19, identifies best practices for going virtual to support your site's sustainability, and addresses why now is the time to become virtual trial capable.
Keeping the Doors Open: An Interview with Hylant
---
April 6, 2020
The COVID-19 pandemic is a serious situation requiring careful navigation, and many companies associated with clinical trials are struggling to keep their doors open. How am I going to survive the next few months? What questions do I need to be asking? Who can I rely on for accurate information and guidance? Learn from Hylant as they sit down with SCRS to discuss how this is impacting sites, specifically their insurance policies.