November 2021
Welcome to the latest issue of InFocus, where we provide insights and solutions to help sites and other stakeholders ensure site sustainability.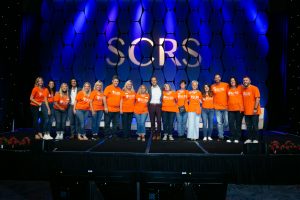 Many of us around the world are filled with excitement as we look forward to a festive holiday season and the new year to come. Thanksgiving in the United States is right around the corner, commencing traditional holidays and customs for many. Though SCRS consists of diverse nationalities, cultures and ethnicities, a common thread among us all is the genuine gratitude we hold for one another and the role we each play in the clinical research industry. Without each one of you, there would be a missing link that is key in transforming the future of site sustainability and the evolution of clinical trials globally.
As we reflect on this past year and the many hurdles our members jumped through to be able to continue to progress in the midst of a global pandemic, we want to express our sincere and genuine gratitude to each and every one of you. You make such a difference in our community, and we truly appreciate your hard work and dedication, every day of the year.
We look forward to connecting with many of you virtually and in-person next year through SCRS programs and industry events. SCRS Honorary President David Vulcano will be speaking at the Fierce Pharma Virtual Clinical Trials Summit on how to find the right partner for your decentralized clinical trials. Join industry experts as we discuss the momentum needed to move forward, looking at current and future trends for ongoing virtual trials, diving into the many ways companies can improve patient engagement and trial behavior.
We also encourage oncology research sites to join us in Austin, Texas this coming January for the 2022 Global Oncology Site Solutions Summit, where we will once again bring you insights on key topics and from acclaimed experts in the oncology field. Expect a learning experience like no other!
Metrics that Matter: Target Areas of Improvement for Site Operations 
Clinical research is experiencing more changes than ever before. Each year, SCRS conducts a Site Landscape survey to gather data on the state of global clinical research sites related to key areas such as site partnership, communication, study start-up, feasibility, financials and technology use. As part of the 2021 SCRS Site Landscape Survey, sponsors and CROs shared what their most important goals are for sites to improve performance and assure viable business practices.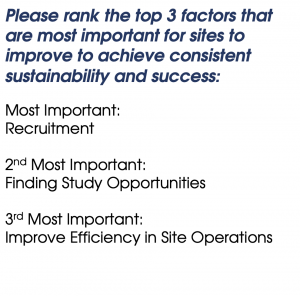 This year, the most crucial areas sponsors and CROs indicated they feel sites should focus on for long-term success and deeper partnerships: 
Recruitment

: Establishing what recruitment methods work best and pursuing new methods to find diverse groups of potential study participants. 

 

Finding study opportunities

: Identifying resources for sites to proactively explore and apply for upcoming studies

 

Improving efficiency in site operations

: Continuously looking for ways to streamline processes to improve communications between site staff and partners, monitor KPIs, reduce employee turnover and burnout, etc.

 
SCRS also asked sponsors and CROs to share what processes they feel are most crucial for sites to improve and address. Results show that recruitment remains a challenge – more specifically, overstating enrollment projections during the feasibility phase. When evaluating the possibility of conducting a clinical trial or study at a site, setting realistic expectations for enrollment targets is the first step for a successful trial and relationship with the CRO. Many factors are at play with trial enrollment including budget and timeline, maintaining data integrity, participant safety, and regulatory concerns. SCRS encourages sites to communicate with partners to ensure expectations are in line with what the site can realistically meet. It's better to exceed enrollment goals than to fall short, so setting the bar at an attainable level is a critical step to conduct a successful study. 
Not surprisingly, industry shared the second major opportunity is improving budgets and contracts. More specifically, the negotiation timelines for study start are still too long. This has been an industry-wide issue consistently for many years with data showing that it takes up to 13 weeks to execute a contract globally and more than 10 weeks in North America. Industry-wide adoption of standard language for certain clauses could help eliminate some of the time-consuming challenges that are part of the study negotiation phase. SCRS created the Common Language Evaluation and Reconciliation (CLEAR) initiative in collaboration with several sponsor and CRO partners to help speed up the contract negotiation and execution process, and SCRS encourages sites to utilize CLEAR to aid with accelerating negotiations when possible.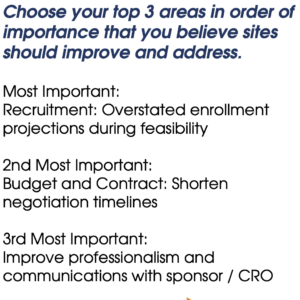 Another top priority for sponsors and CROs includes improving communications and professionalism with sites. Sites, sponsors and CROs can work to achieve this by establishing one or two contacts that will facilitate communications between parties. Who should the site bring challenges to? What are next steps if the site doesn't hear back from the CRO? SCRS continuously advocates for working relationships between sites and industry partners to be collaborative, respectful, and proactive and to consider each organization as partners, not vendors. By setting expectations, we can see when those expectations are being met or missed.  For industry partnerships to be successful, sites need to be heard, respected, and trusted. 
Metrics That Matter features data, statistics and insights from industry surveys, including the annual SCRS Site Landscape Survey. Join SCRS at one of four annual Site Solutions Summits or monthly Sites NOW meetings to hear more data-driven insights affecting the industry right now. 
SCRS Member Benefit Update
Recently, many of us gathered at the SCRS Global Site Solutions Summit in Florida. We were so thankful to come together with you again, in a way it was much like a long-awaited family reunion!
At the November Sites NOW discussion, we will be sharing highlights from the 2021 Global Site Solutions Summit from some of this year's top requested sessions. Discover key takeaways that Summit attendees are using right now! Sites NOW is the perfect opportunity for your site to connect with sponsors and CROs through conversation and connection. We hope you will join these critical conversations to share your input on site-focused issues. SCRS members can attend Sites NOW meetings at no cost – please email members@myscrs.org to learn more.
Moving forward, we invite you to prepare for 2022 by taking advantage of your exclusive member discounts for SCRS Summits.  As each event gets closer, you will receive an announcement via email that gives you clear direction on how to register with a special code for reduced member pricing. Take the time before the busyness of the holidays to secure your seat by registering soon for the Oncology Site Solutions Summit, held January 28-29 in Austin, Texas! We look forward to seeing you in person at each one of our upcoming Summits around the world.
If you have any questions or need assistance in registering, we are here and happy to help! Reach out to your Member Engagement Specialist, Anne Marie Molster, at annemarie.molster@myscrs.org or call for membership assistance at 410.696.5080.
Clinical Research Sites Showcasing Patient Centricity
What does it mean for sites to be patient-centric? Learn from Ellen Price, Director of Patient Engagement at Meridian Clinical Research, the recipient of the 2021 Excellence in Patient Centricity Award.
Ellen walks us through the programs that grew her organization despite the challenges of COVID-19 and how other sites can establish consistent patient-centric practices.
Learn more about the Excellence in Patient Centricity Award at https://sitesolutionssummit.com/
Listen to the full SCRS Talks episode below.
How Do We Address Language Barriers With Diverse Populations? 
Diversity in clinical research is currently a highly discussed industry-wide initiative. However, much of the conversation has focused on what sites can do to achieve more diverse enrollment, which is only the beginning. In the SCRS Member Community, sites expressed their challenges with engaging diverse populations and suggestions on how sponsors and CROs can better support them in the process.  
One site shared that they are located in an area with a high Hispanic population, stating, "Most of our studies involve cognitive assessments that are highly language-based.  I speak conversational Spanish, but am not fluent enough to perform these ratings in Spanish. I have been trying for years to find a bilingual rater who can provide psychometric or functional assessments, but haven't been able to. Thus, we can't enroll monolingual Spanish-speaking subjects in our clinical trials that contain these assessments. This eliminates a many potential subjects who are representative of our population."
Other sites in the SCRS member community noted they have similar roadblocks, as bilingual raters are difficult to find. One site noted she hired Licensed Marriage and Family Therapists (LMFTs), which typically have a Master's Degree or higher. "Many LMFTs have several years of working with patients in a clinical setting and have experience administering various assessments already with their patients, so it was easier to get them approved to be raters on studies. Many are very interested in research and some might already have some type of research training or background," the site expanded. 
Sites are actively working on initiatives for diverse enrollment, but CROs and sponsors should also consider their roles in the process and how they can make it easier for sites to engage and retain diverse patient populations. SCRS member sites suggested solutions for sponsors and CROs to assist sites with diverse patient enrollment, such as: 
creating a training program to train/approve raters in various languages

 

creating common rules for approval and qualification of raters, so there is a standardization that can be performed

 

approving consistent endpoints that allow for validated questionnaires in multiple languages

 

improving ease at which raters can be approved from one study to the next

 
While it is imperative that the industry is continuing to prioritize recruitment of diverse populations, we also need to ensure sites have the resources needed to effectively communicate with and retain these populations as well. The conversations in the online community are just some of the solution-focused discussions SCRS members can be a part of. Join us at upcoming Site Solutions Summits and Sites NOW meetings. SCRS members can also participate in these conversations with other sites anytime in the online community. 
Toolkit for Decentralized Clinical Trials
ACRO Releases Toolkit to Help Advance Decentralized Clinical Trials
When the COVID-19 pandemic made in-person clinical research visits difficult, if not impossible, CROs and technology companies were able to keep active clinical trials up and running, often by using remote technologies – telemedicine, remote sensors, wearable devices – to allow patients to continue to get the care and evaluation that are part of a clinical trial. Decentralized trials (DCTs) have been a valuable resource during the pandemic, and DCTs will continue to be an important, patient-centric trial design. 
The DCT Toolkit 
ACRO's Decentralized Clinical Trials Working Party has created a toolkit that lays out a vision for the planning and execution of DCTs. In order to introduce the toolkit and discuss the value of DCTs, ACRO created a white paper which features experts and case studies from across ACRO's membership. The toolkit is available to all stakeholders on ACRO's website. It consists of four resources: 
Bringing the Trial to the Patient: A Quality-by-Design Manual for Decentralized Clinical Trials 
The Quality-by-Design Manual for DCTs is a comprehensive framework focused on the construction of decentralized clinical trials – from early design and planning to close and archiving. Many of the beginning-to-end steps in the clinical trial process are addressed in the same way under both a "conventional" and a "decentralized" trial model. However, there are some steps in the clinical trial process where a decentralized model raises new and unique questions. The Manual applies a QbD framework to those clinical trial steps where new issues emerge when a DCT model is adopted.  
QbD Manual for Decentralized Clinical Trials: The Quick Reference Guide 
The QbD Manual Quick Reference Guide was created to provide a more readily accessible version of the full-length ACRO DCT QbD Manual.   
Decentralized Clinical Trials Risk Assessment Considerations 
The DCT Risk Assessment Considerations is a template designed to systematically generate questions that facilitate cross-functional discussion in order to identify and mitigate potential risk in decentralizing trial functions. This worksheet is intended to complement (and be used in conjunction with) a company's existing risk tools.       
Decentralized Clinical Trials Data Flow Maps 
Data integrity and data quality are key pillars of clinical research. The ACRO DCT Data Flow Maps are designed to build confidence and trust in decentralized clinical trials by providing transparency and visibility into data flow, data controls, and data traceability within a DCT to illustrate how a decentralized model guards data quality and integrity. 
ACRO members are invited to download these tools and encourage colleagues, customers, and other stakeholders to do the same.  
The toolkit was created for the benefit of all stakeholders. To share the toolkit, discuss the ways it can be used, and receive feedback, the ACRO DCT Working Party has been meeting with regulators and other stakeholders. ACRO looks forward to continuing this conversation on advancing DCTs as a key resource in an increasingly digital environment. 
e-Signatures in Clinical Research – Pros and Cons
By Rick Greenfield, BBA-IS, Chief Executive Officer, RealTime Software Solutions, LLC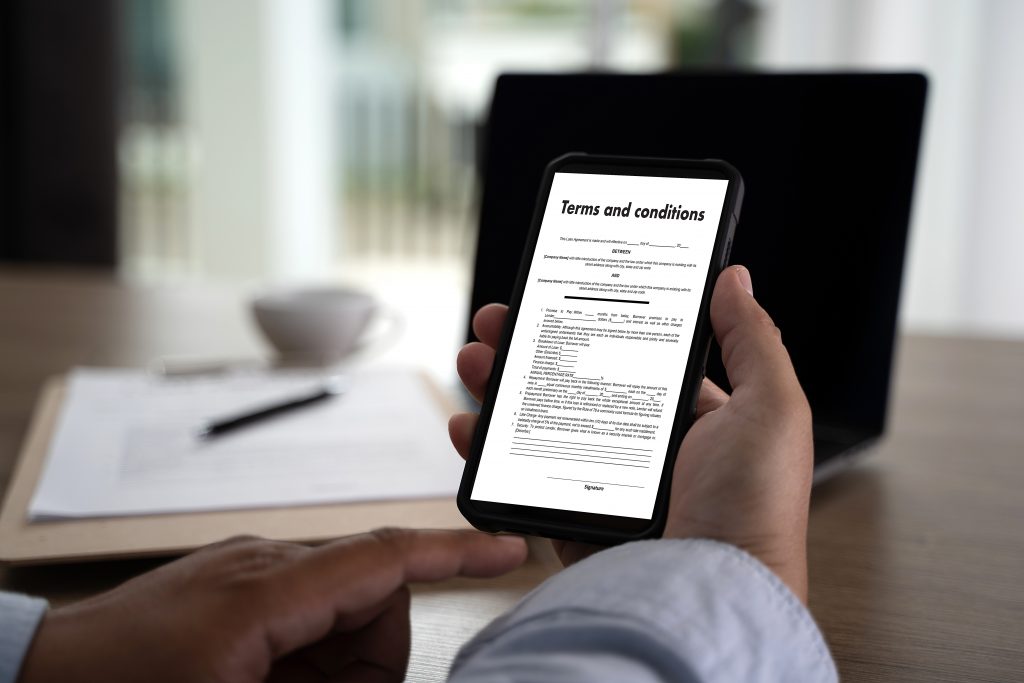 As the clinical research industry moves into an increasingly paperless, electronic world, all stakeholders involved in clinical trial processes are faced with new workflows that include numerous benefits. However, in some cases, new challenges must be overcome. The move to electronic systems has been greatly accelerated due to Covid-19 as the need for contactless processes quickly increased, but the reality is that our industry was already moving into these advanced systems due to the numerous benefits that they offer. The uptake prior to Covid-19 was much slower, perhaps as a result of change itself, but there are inherent challenges that the industry will collectively have to overcome as we move toward complete adoption across our industry.  
One example of the above is with the adoption of electronic signatures on clinical research-related documents, to include highly regulated documents such as FDA 1572s, subject informed consent forms (ICFs), e-Delegation logs and more. It is easy to realize the powerful advancements that e-signatures offer to clinical research. First and foremost, it offers complete accountability. Utilizing a pen and paper, it is difficult to concretely prove that a signature is both authentic and timely as signatures can easily be forged and/or entered late and back-dated. With e-signatures, users are digitally authenticated utilizing complex login credentials, time, date, IP address and other electronic metadata. Further, this authentication information is recorded in audit trails allowing for complete accountability. For sponsors, CROs and the FDA, this level of accountability and proof of oversight should be highly sought after to ensure data integrity and patient safety. For sites, this level of scrutiny may be a bit scary, but good sites need the same level of transparency to ensure quality, accuracy, oversight and accountability of their staff and investigators.  
Other advantages of e-signatures include being able to sign from anywhere as long as a computer or smartphone and internet connection are available. The days of chasing investigators around for signatures are over for sites that use e-signature capable systems. In addition, investigators and staff have the ability to receive push notifications or email alerts when e-signatures are needed so they can work e-signing into their day when it makes sense.  
As with any new technology or process, change is required, and change can be challenging in any circumstance. But in the case of e-signatures, processes are mostly improved and streamlined which makes the change quite simple. One of the biggest barriers to e-signature adoption is simply concern. The biggest concern is that e-signatures may not be accepted by other parties or authorities such as the FDA. In fact, the FDA has written very clear guidance to allow for e-signature adoption; therefore, as long as compliant systems are used, there should be no barriers to the implementation of e-signatures and taking advantage of these vastly improved e-signature processes. Further, these more advanced systems permit sign-on-the-line technology that allows for section-specific signing by multiple parties, user-selection of checkboxes and comment box areas to add additional statements of testament. 
In short, there are far more advantages to e-signature utilization in clinical research. The only real disadvantages are the lack of adoption and acceptance by certain stakeholders due to misconceptions around regulatory compliance. Thankfully, at this point in the user-adoption curve, we are seeing widespread acceptance and greatly improved document signing processes, further paving the way for a streamlined, paperless, decentralized clinical research world! 
Collaborative Approach for Rare Disease Trials
Centered on Sites: Committing to a Collaborative Approach for Rare Disease Clinical Trial Success
Investigative sites are fundamental to the success of clinical trials. In many rare disease trials, recruitment relies heavily on their existing patient population. As the epicenter of clinical trial execution, providing sites with complementary support enables them to execute the study at the highest level. COVID-19 has further amplified the need to work collaboratively as we continue to drive rare disease clinical research forward.
Sites are intimately connected to their patients. They have a deep understanding of the disease area and the challenges it presents to the patient and their caregivers. Tapping into their expertise and putting the site-patient relationships at the core of building a strategy can be an important first step toward success. Establishing the site as your partner early in the trial process, seeking opportunities to reduce site staff/patient burden, and providing appropriate support tools and personnel will aid enrollment. Implementing this upfront gets ahead of common enrolment issues, maintains motivation, and reduces lost time. 
Additionally, reducing site visits, identifying the most critical collection points, and maximizing digital solutions can improve efficiency and reduce face-to-face interactions to ensure studies are conducted safely and effectively during the pandemic. Ensuring that sites are supported appropriately from a financial perspective instills confidence, particularly for rare disease studies that can continue for a number of years. 
To learn about strategies to foster a collaborative partnership with clinical research sites in rare disease, watch this on-demand webinar. In the webinar, you'll learn best practices from the perspective of Manchester University NHS Foundation Trust, an experienced investigative site for rare diseases, and Medpace, a CRO with specialized experience supporting rare disease clinical development. Topics include: 
Safety of staff and patients: reducing outside personnel visits to site, utilization of digital solutions, engaging with home health, and ensuring adequate PPE

 

Ensuring studies are convenient for site staff to implement

 

Simplifying recruitment communication to reduce site burden; how online pre-screening portals can help

 

Partnering with sites to streamline processes, in turn easing patient burden

 
Founded in 2012, SCRS is a global trade organization that unifies the voice of the clinical research site community to create greater site sustainability. Representing over 9,500 sites in 47 countries, SCRS membership provides sites with a community dedicated to advocacy, education, connectivity and mentorship. SCRS is an influential voice for sites and an active partner in industry-wide initiatives and dialogues focused on improving the clinical research enterprise. Our Voice. Our Community. Your Success. Join the community.