August 2019
Welcome to the August issue of InFocus, where we provide insights and solutions to help sites and other stakeholders ensure site sustainability.
Rick Arlow was an engineer by training, but went to graduate school at Case Western Reserve University to pursue an M.D. and a Ph.D simultaneously, which is where he first discovered the challenges clinical trial administrators face. While he was using advanced computer modeling technology to help scientists learn more about deep brain stimulation, he noticed that people testing technologies on actual patients spent a lot of time managing paper documents and tracking down doctors to get signatures. It was then when he realized how these inefficiencies impacted his team and responded by creating a software platform to streamline the team's efforts. His hypothesis was confirmed after the first few customer implementations, and Arlow created a new technology category to found Complion, an industry-leading eRegulatory and document management software provider.
Arlow was particularly struck by the care and attention to detail this area of clinical research required. While new processes are intended to streamline work and utilizing technology hastens the pace of work, treating patients requires intentional and personal care that cannot be rushed. "You don't have the option to move fast and potentially create problems when you're dealing with a person," Arlow said. He found the challenge of figuring out how to innovate in an environment that required both speedy responses and meticulous individual care exciting: "It is a unique challenge to figure out how to innovate in that environment while still respecting the rules and regulations that are in place." Those rules, as those who work in the clinical research industry know, are incredibly important. The trick is to ensure that regulations and processes are simplified without leaving the patient and the individuals working hard at the site-level to treat the patient behind.
Arlow recognizes that the industry is full of highly trained, talented individuals who bring valuable research forward, and that these individuals also have to navigate very real pain points every day in order to do their jobs. "Spending so much time on paper-heavy and manual processes eats up a lot of the enjoyment people take in doing their job because that isn't what they came to clinical research to do," Arlow reflected. "I wanted to solve this problem so more studies can be completed faster to provide the medications and treatments people need. I began creating the system we use at Complion, word began to travel, and the company began to grow quickly." Today, Complion is known as an eRegulatory and document management software provider that tailors services to the individual site, addressing their pain points and creating actionable solutions.
In working on these solutions, he began to notice a difference between generations. Generation Xers thought it was silly to lug around huge binders, pay archiving and storage costs, and generally deal with the inconvenience. "If you peel back the layers of the onion a bit, though," Arlow shared, "the paper problem is only the tip of the iceberg." If paperless systems are to be successfully adopted, employees have to understand their value as well as how to use them. Sites often see the benefit of implementing eRegulatory and other software, but the process is daunting and the support provided for site staff to acclimate to new processes is often insufficient. "The solution is there, but unless you address the how and why it is unlikely that you will really be able to reach the underlying problems so they can be addressed," said Arlow.
Without consistent, company-wide processes, problems arise. For example, Arlow discovered that coordinators often processed paperwork differently, using different naming conventions and saving documents in different places; when they needed someone to backstop for them, the new coordinator was completely lost and work stopped. Furthermore, sites often have to follow sponsor or CRO processes instead of their own, and the issue of inconsistency is compounded substantially. "It becomes even harder once they add locations and sites, which requires further management of regulatory documents and processes instead of being able to focus solely on their work," Arlow lamented.
Documenting a study is like telling a story. "This regulatory and document challenge exists because sites are expected to tell the story of the study," Arlow said. "With recent changes to ICH E6 (R2), there is now even more information needed to be able to tell the story on its own. Study documentation must be done in a comprehensive and consistent way, following clearly identified processes and procedures, and the software sites are using needs to guide users to follow the site's consistent story." This level of attention to detail reduces the amount of manual effort needed to prepare for audits or answer a monitor's questions. When every study is conducted and documented in the exact same way, with documents located in the same place, the risk of audit findings decreases significantly. There is a cost savings too, as fewer staff need to be hired to manage the audit.
"The time investment is often a more significant challenge than the cost," Arlow shared. Software should address the time element first by providing and creating consistency. This will make site employees more likely to actually use the software.
"When you're evaluating the value of going paperless," Arlow said, "give thought to what your site's core problems and challenges are regarding regulatory and administrative work. If you can truly automate these processes and become more efficient across studies, you will remove a significant amount of burden for your employees. You will see them become more motivated, be able to more successfully run trials, and your site will become increasingly competitive and attractive to sponsors."
Activities at the Site: Time Spent vs. Payment Rendered
Fair market value (FMV) for clinical trials is an oft-debated topic. Sponsors tend to say they cannot pay more than fair market value, yet there is no clear agreement or understanding of what a "fair" price for clinical trial services really is. Sites often struggle to defend their costs, and as a result do not always receive adequate payment for the work they perform.
A related problem is the disparity between time spent on clinical trial activities and the associated payment rendered. 2018 Site Landscape Survey data shows that on average, investigators spend 27 minutes on informed consent, coordinators spend 51 minutes and research assistants spend 15 minutes. Sites receive an average of $118 for informed consent and pay research physicians an hourly rate of about $96/hour, coordinators $24/hour and research assistants just over $16/hour. In other words, sites are receiving $118 for about 30 minutes of a physician's time, almost an hour of a coordinator's time and 15 minutes of a research assistant's time for arguably the most important component of any study visit. When you take the multitude of other costs associated with conducting a clinical trial such as overhead and leaving space for the site to have a small profit margin to sustain their business, it is no wonder that so many physicians find conducting clinical research to be less enticing than running their own practice. The same trend can be seen regarding the amount of time staff members spend on patient medical history, with investigators spending an average of 24 minutes, coordinators just under an hour and assistants about 18 minutes on this activity and sites being paid on average $93.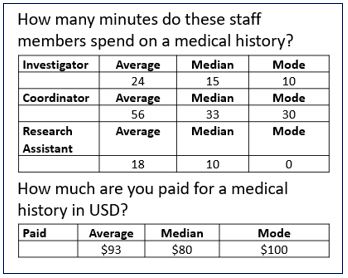 Though sponsors believe these costs represent fair market value, well over half of site respondents reported that the payments they receive never, rarely or only sometimes cover the related procedure costs.
Key Actions & Take-aways
Sites
Always attempt to negotiate the costs you expect in order to perform study work. Do not simply accept the costs suggested during budget and contract negotiations, and do not always take no for an answer. With proper justification and documentation, many sponsors will approve increasing budget line items for activities that require a significant time spend, especially when these activities are shown to be essential for the trial's success.
That being said, it is imperative that you provide sufficient justification when attempting to negotiate for better rates that more closely reflect your FMV. Sponsors and CROs do not need to see your fee schedule, but they are often under pressure to keep budgets as affordable as possible. Anything outside of normal parameters may be escalated and will have a better chance of being approved when the request is accompanied by a detailed justification in the form of evidence of time spent, costs, and other related items.
Sponsors and CROs
Continue to refine your company's approach to FMV and understand that this is not a one-size-fits-all situation: even sites on different ends of the same city can have drastically different costs, let alone different states or countries. Sites have unique needs and expenses, and when proper documentation is submitted, site negotiations are a way to encourage high-quality sites to not only stay in business, but to continue partnering with your organization on upcoming clinical trials.
CTTI Works to Advance Adoption of Single IRB in Multicenter Clinical Trials
It has become increasingly important to understand how and when to use a single IRB (sIRB). Changes to the Common Rule require that all U.S. sites engaged in cooperative research funded or supported by the federal government use a sIRB by January 20, 2020. The NIH already requires use of a sIRB for all non-exempt multi-site studies that receive NIH funding.
Although sites may be seeking simple compliance when they adopt a sIRB, they may also find through the process that using a sIRB can be beneficial. In addition to improving the efficiency and quality of clinical trials, sIRBs can help expedite review and alleviate the burden on individual sites. Use of a sIRB can also result in improved protection for trial participants because eliminating review from multiple local IRBs removes inconsistencies in protocol and consent review and therefore reduces the chances of exposing participants to different levels of potential risks.
For nearly a decade, CTTI has championed the adoption of sIRBs for multicenter clinical trials by providing recommendations and resources to address barriers and support successful implementation. In 2018, CTTI conducted interviews with investigators, study coordinators, and representatives from IRBs and industry about the benefits and challenges of adopting sIRB review, particularly for FDA-regulated clinical trials. The data were shared with the FDA and will be summarized in a peer-reviewed publication.
CTTI is also working with the NIH to develop a comprehensive plan for assessing the NIH's sIRB policy. CTTI continues to explore the actions that the NIH, the FDA, the Office for Human Research Protections, and other groups can take to help the research community adopt sIRB review.
Finally, CTTI has developed resources to fill information gaps related to the transition to sIRB review. Next month's SCRS InSite journal will feature more information on these new resources.
Successful Techniques for Accelerating Recruitment (STAR)
LGBTQ+ Recruitment in Clinical Trials
Not only is the LGBTQ+ community an underrepresented population in clinical trials, it also does not immediately come to mind when most sites or researchers consider reaching more diverse patient populations. We are quick to think of ethnic minorities, the elderly and the disabled but less likely to consider sexual orientation or gender identity when we think about diversity. The prevalence of discussion about this community and the general public's willingness to have this conversation openly is relatively new, and it is time for the clinical research industry to join in.
As with other diverse populations, the growing LGBTQ+ community is a group of individuals with the same healthcare needs as everyone else. However, they experience similar barriers as other marginalized or minority groups regarding learning about and participating in clinical trials.
The following are some specific ways to help this population feel welcomed and included in clinical trials:
Targeted advertisements. Sites can develop strategies that target and include LGBTQ+ individuals in advertising campaigns, especially in areas with high LGBTQ+ population density or during particular times of the year such as Pride Month. These advertising campaigns demonstrate that the contribution of the LGBTQ+ community to clinical trials is valuable, needed and desired, and that they too can receive treatment and help to advance the field of medicine in a judgment-free environment.
Target areas of community congregation. Similarly, recruitment materials for appropriate studies can be placed in areas LGBTQ+ people frequent and in healthcare facilities in their neighborhoods. This is especially applicable for clinical trials intended to access this community such as HIV/AIDS treatments or hormone replacement therapy.
Ensure equal treatment in recruitment campaigns. Most importantly, it is crucial that LGBTQ+ individuals feel they are being treated equally regarding advertising, recruitment and treatment. Recruitment campaigns should make them feel that they are as important, valued and equal in the clinical research process as any other population.
Above all, no diverse or minority patient population should be discriminated against or treated unfairly because of who they are. Crafting advertising and recruitment campaigns that achieve equitable reach and recruitment will allow research sites to access and treat a population that utilizes healthcare in sometimes unique ways to meet unique needs.
Founded in 2012, SCRS is a global trade organization that unifies the voice of the clinical research site community to create greater site sustainability. Representing over 9,500 sites in 47 countries, SCRS membership provides sites with a community dedicated to advocacy, education, connectivity and mentorship. SCRS is an influential voice for sites and an active partner in industry-wide initiatives and dialogues focused on improving the clinical research enterprise. Our Voice. Our Community. Your Success. Join the community.