After three years in the making, SCRS finally had the opportunity to host the inaugural SCRS West: Clinical Tech & Innovation Summit in sunny Scottsdale, Arizona. Nearly 300 industry stakeholders joined us to discuss what the evolution of clinical research technology looks like, solutions for technology congestion, and how we can all communicate and collaborate efficiently to make our shared vision a reality. This Summit also included a new platform called Tech Stories where solution providers shared case studies and use cases of innovative technologies and how they have helped sites enroll or engage patients, refine processes, and prepare for the future.
Up next, we have the Australia-New Zealand Site Solutions Summit in Melbourne, Australia from July 18-19. The Summit will feature critical content for the region including staff recruitment, patient perspectives, regulatory guidance, and digital transformation opportunities. If your organization participates in clinical research in this region, this will be an event not to miss! Learn more and register.
Speaking of clinical technology, SCRS recently released a new Technology-Enabled Trials Training to provide a foundational understanding for sites to participate in trials that are technology-enabled. The training is designed for new staff or sites that have little to no experience participating in trials that contain technology or decentralized elements. Access the training for free today!
In this issue, read one clinical research professional's moving story of patients that have made a huge impact on her and why she loves this profession. Be sure to download the eBook and white paper from Curebase and Datacubed Health as they share insights on eClinical technologies and how sites can succeed in DCTs. Greenphire also shares how to enable patient convenience through mobile technology, and Aspen Insights unpacks a common practice in many site enrollment feasibility analyses. If you'd like to learn how to show patients and trial participants gratitude in meaningful ways, and why we should never forget this crucial step in our work, TransCelerate discusses just that. And if you missed the 2023 Diversity Summit, read Teckro's takeaways and call to action for the industry to help advocate for diverse populations in healthcare and research.
In case you missed it, our latest Diversity Webinar Series is now available and complimentary for all. Register now for virtual sessions happening throughout the year. And we always hope to see you soon at a future Summit or Sites NOW discussion!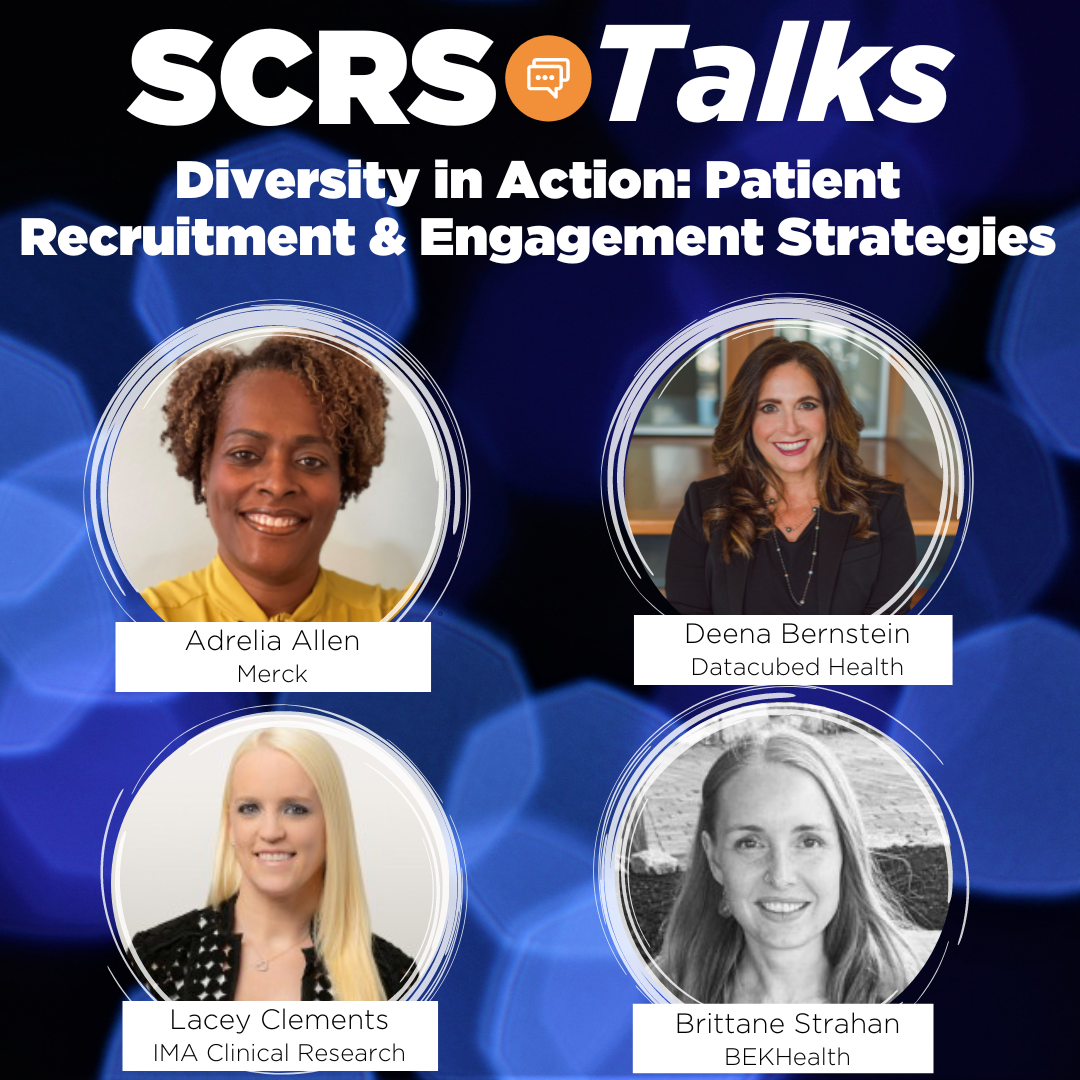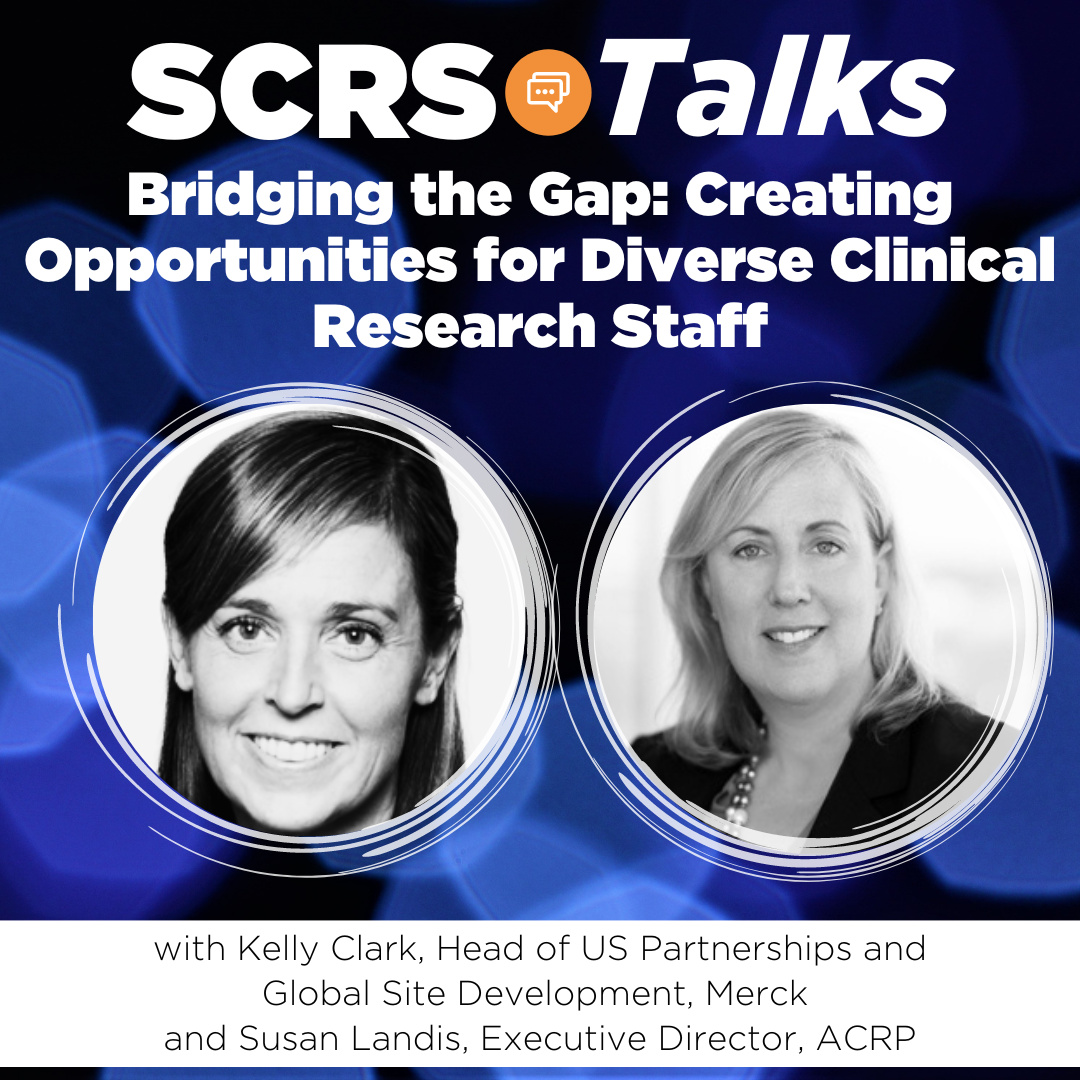 SCRS is growing our ways of connecting with you! Earlier this season, we began communicating with our members through a weekly email update, making sure each of you sees new announcements and keep up with SCRS news, surveys, webinars, and events.
To ensure our valued site members are maximizing your benefit usage, I will be highlighting a Member Action Point. Consider this weekly item your M.A.P. to success! With these helpful tips & announcements, new team members will quickly learn to navigate their membership accounts and access the endless resources available.
If you are not signed up for our emails, you can do so
here.
Also, don't forget to maximize these member benefits!
Update Your Profiles with SCRS
Sponsors and CROs continuously ask to learn more about SCRS site demographics and therapeutic areas to build relationships and provide study opportunities. Showcase your site by updating your profile on the SCRS member portal and Site Directory today!

To update your Organizational Member Profile:
2. Navigate to your profile (top right)
3. Edit your organizational information
The SCRS Site Directory is a comprehensive, searchable online directory showcasing SCRS member sites and networks. All SCRS members receive an exclusive opportunity to highlight your site's capabilities, therapeutic expertise, and showcase your staff. 
To showcase your site, please email members@myscrs.org.
Site Management Modules
Designed specifically for clinical research sites, these modules provide a comprehensive learning experience to enhance your site team's performance and success. 
Our modules offer a concise and efficient way to train site staff on essential aspects of site management. With easy-to-follow videos and resources, you can quickly upskill your team and ensure they are well-prepared to excel in their roles. Empower your team with the knowledge and skills they need to thrive in the competitive world of clinical research. 
Access now for free!
Membership Engagement Specialist
Founded in 2012, SCRS is a global trade organization that unifies the voice of the clinical research site community to create greater site sustainability. Representing over 10,000 sites in 47 countries, SCRS membership provides sites with a community dedicated to advocacy, education, connectivity and mentorship. SCRS is an influential voice for sites and an active partner in industry-wide initiatives and dialogues focused on improving the clinical research enterprise. Our Voice. Our Community. Your Success.