February 2021
Welcome to the February issue of InFocus, where we provide insights and solutions to help sites and other stakeholders ensure site sustainability.
The 2021 SCRS Global Oncology Site Solutions Summit welcomed over 700 attendees to this year's virtual event. This was a record-breaking 40% increase over last year's attendance. The Global Oncology Summit was initiated in 2019 and is a special focus of SCRS in memoriam to SCRS founder Christine Pierre. Christine continued to expand the SCRS Oncology Program while she was enrolled in a clinical trial for ocular melanoma.
At the time of its inception, Christine invited Archana Sah to lead the program. As chair, Ms. Sah has led the program through both tremendous growth and the challenges of COVID-19. Ms. Sah now returns to a board position as Sandy Smith assumes the chair role. Ms. Smith is currently a member of the oncology program board and served as co-chair of the 2020 and 2021 Summits.
Our keynote speaker at this year's Global Oncology Summit was Maimah Karmo, the CEO and founder of the Tigerlily Foundation. At age 32, after surviving war in her birthplace of Liberia, immigrating to the United States twice, and having recently had a daughter, she discovered a lump in her breast. Following treatment for cancer, she founded the Tigerlily Foundation to provide breast health, educational, empowerment, wellness and transformational programs to young women. The foundation addresses breast cancer from all sides, including support for partners and caregivers of young people experiencing breast cancer and STEM education for women. One of the four areas of focus for the foundation is to "end disparities – of age, stage and color, in our lifetime."
Ms. Karmo brought her message of breathing and self-care at a time when we are facing the collective trauma of going through a challenge we did not expect to face. "No one expected to be afraid of breathing," she said, speaking of our COVID-19 experience. She asked clinical trial professionals to "Hold a space in gratitude for yourselves and what you do" and encouraged listeners to use tools in their environment like scents and candles to give themselves the level of self-care they would encourage their patients to have for themselves.
We took that to heart at SCRS as, at the same time we were meeting virtually instead of at our usual location in Texas, we were watching an empty convention center in Texas being filled with rescued sea turtles. We applaud the caring that is provided in our clinical trial sites and in our communities. We want you to take the time to take care of yourselves, and we will be doing so as well.
The role of SCRS is to bring sites together and amplify their collective voice, and we have programs and virtual experiences focused on that throughout 2021. We will continue with our traditional webinar-style content, but we also have a slate of different virtual experiences designed to bring our community together with more of the interaction that our site community needs both personally and professionally. These include Q&A sessions, partnership symposiums, fireside chats, the Sites NOW program, and more. This newsletter includes a report from a recent Sites NOW meeting. Keep an eye out for our webinar calendars and emails to be sure you don't miss any of these exciting opportunities.
Onboarding Not-So-New Technology
In the 2020 SCRS Site Landscape Survey, sites were asked about technology they were not using but planned to implement. Ten kinds of technology received responses that they were being considered by 10% or more of sites. More than a quarter of sites were considering eSource, telemedicine, and/or eConsent. Clearly, site staff, monitors and other CRO and sponsor personnel engaging with the sites are going to be encountering a lot of new technology. The good news is that much of this technology has experience data supporting its use at sites, and sites implementing existing solutions now are not facing the hurdles of early adopters. Nonetheless, adopting established technology can create its own challenges.
The experience of other sites with these technologies potentially addresses some of the problems of staff acceptance but can also raise new issues. It is important to learn what staff experience with these technologies has been, such as if they worked with it at other sites or in a previous rollout at the current site, or what they've heard from colleagues at other sites. This information will help inform where education and training need to occur and might also give management a heads-up about implementation errors to avoid.
Being slower to adopt new technologies may create challenges with transformation in the future. When your site made the strategic decision not to adopt eSource, that also meant leaning into some of the strengths of existing systems. Your staff have become more attuned to current processes and how to make the best use of them. Migrating to new systems later can be paradoxically more difficult because the use of the old system becomes ingrained in the organization. Switching to a new system may require openly acknowledging that how the team collaborates is going to have to change in other ways as well.
That acknowledgement also gives site management the opportunity to determine the team's strengths. This information puts site leadership in a better position to evaluate potential technology solutions and identify the best one for the organization. An important part of this process is considering feedback from involved staff members. Input from the typical user is important to obtaining technology that will enhance and truly fit your site processes.
Picking not-so-new technology presents different challenges than those faced by early adopters. However, these challenges can give site management an opportunity to learn more about their team and select technology and processes that will be most effective for the site.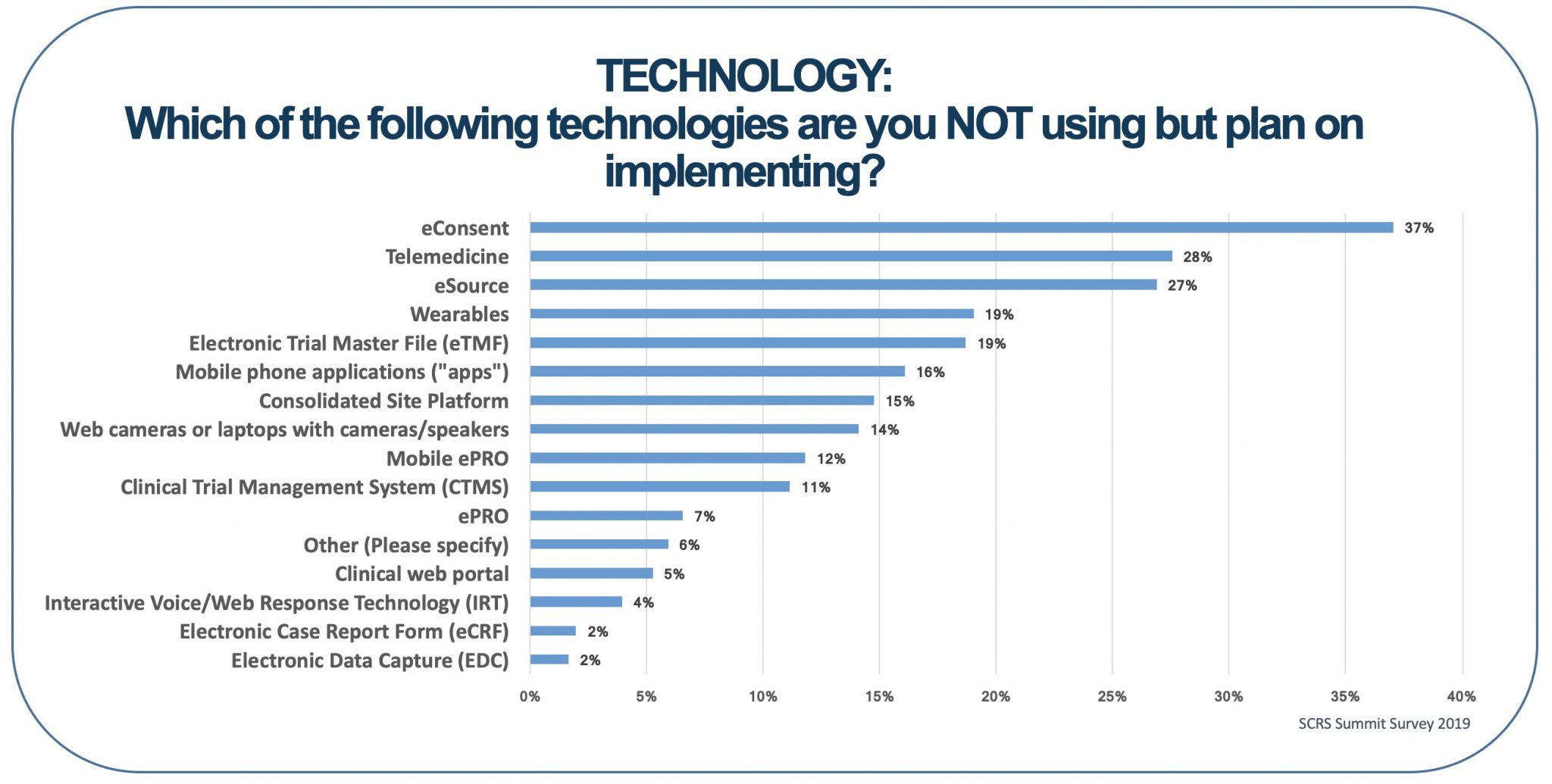 Forbes Technology Council. (2019). 10 critical aspects to consider before adopting a new technology. Available from the Forbes website: https://www.forbes.com/sites/forbestechcouncil/2019/02/06/10-critical-aspects-to-consider-before-adopting-a-new-technology/?sh=1e9bbc5212b9
Knight, R. (2015). Convincing skeptical employees to adopt new technology. Harvard Business Review. Available at: https://hbr.org/2015/03/convincing-skeptical-employees-to-adopt-new-technology
Meet Chris Hoyle and Discuss Today's Vaccine Studies
Today, Chris Hoyle is Executive Director of Elite Research Network, but 20 years ago he was working in a laboratory and finishing up his MBA in Wilmington, NC. Like many who end up in clinical research, Mr. Hoyle's route has an element of the unexpected: upon graduation, he was offered a management position at a clinical research site in Mt. Pleasant, SC. "I had always wanted to work in the medical sector and that was my foot in the door to everything that has happened since," recalls Mr. Hoyle.
While working at a research site, Mr. Hoyle met Christine Pierre. Since then, he has been to almost every SCRS Global Site Solutions Summit, only missing the very first one. He is now on the leadership council at SCRS, serves on the SCRS Global Site Solutions Summit Steering Committee, and is a past committee chair.
Meanwhile, Mr. Hoyle was developing a larger vision for how he could use his business management knowledge to improve sites. "Elite Research Network started in 2004 to centralize business development," he recalls. When asked specifically about vaccine research Mr. Hoyle explained, "Some of the sites were already doing vaccine research. It's been a process of bringing together their best practices and building procedures for our entire site network."
The growth has been dramatic. Since 2006, about 800 vaccine studies have been completed at sites in the network. In 2010, a number of sites enrolled 2000 patients in one study. This experience and a program of formalizing processes and procedures that really accelerated in 2016 put the network in a position to launch the COVID-19 vaccine studies the sites have been doing over the last year.
The process used at Elite Research Network focuses on four key points in getting a vaccine study running:
The first element is building a business development and feasibility team that creates and reinforces trust with vaccine clients, both sponsors and CROs. Mr. Hoyle says that doesn't happen overnight: "Building these relationships is an ongoing process of delivering accurate information and predictability about your capabilities and delivering. There's a lot of client turnover, so you're constantly rebuilding relationships." When asked about advice for sites that don't have a dedicated business development specialist, Mr. Hoyle advised, "You're going to have to either hire one or someone has to take on the role. Some investigators have the drive to reach out to sponsors and they might be able to do it on their own. But if they aren't doing outreach, they need to get someone on their team who is."
The second element is having a strategy for enrollment that can be quickly called upon to develop enrollment metrics. "Accuracy in feasibility is what builds trust," said Mr. Hoyle. "You have to have a strategy that you've developed and used so you know how it performs and can accurately provide your enrollment expectations."
The third element is creating a recruitment plan for the specific study that you're about to enroll. "You can't just turn on a light switch the day before and expect volunteers to show up," said Mr. Hoyle. Instead, he advises, "Look at what you can start doing at least six weeks prior to enrollment starts."
The final element is, "Green light. This is where your processes come into play and being able to run a high volume study smoothly."
Mr. Hoyle says that the most important items for collecting the endpoint data that vaccine study protocols require starts with a recruitment process that brings in patients who understand the study and are motivated to participate. It then continues with surveillance of e-diary completion.
"Sponsors may not see everything that goes on behind the scenes to get their endpoint data," says Mr. Hoyle. "Building relationships and clear expectations with the study participants and constantly monitoring e-diary completion so you can engage early if they aren't being filled out in real time are both important." He also stresses the importance of offering patients an appropriate stipend for their time.
When asked about what's coming next, Mr. Hoyle was enthusiastic about pediatric COVID-19 vaccine studies. "As the father of two young children, this is something that's important to me," Mr. Hoyle said.  "Sponsors and CROs had already developed resources for pediatric studies even before COVID-19. COVID-19 vaccine research is now pushing these organizations to get pediatric vaccine studies in place."
Mr. Hoyle looks forward to seeing Elite Research Network continue its participation in both adult and pediatric vaccine studies moving forward.
Trial Opportunity Platform
The Trial Opportunity Platform (TOP) was established in 2017 to allow SCRS Global Impact Partners to provide SCRS site members with information about potentially available clinical trials. SCRS receives this information from the respective GIP and posts it to the Members section of the website where these trial opportunities can be explored and, if qualified, engaged with. While there is no guarantee of selection, it does give site members a leg up for obtaining new trials. The same process for site selection will be carried out and the ultimate decision about site selection is left completely to the companies involved with the study.
In December 2020, SCRS embarked on a partnership with the US National Institutes of Health (NIH) to provide SCRS members with access to the ACTIV series of trials on the TOP. This series of several trials are aimed at combatting COVID-19 through both prevention and treatment.
"Nothing else exists like TOP because it required trusted relationships with our industry partners to develop," said SCRS COO Allyson Small. "It is the product of years of work unifying the sites, and we are excited to be able to offer it to our site members."
Visit here to learn more.
In no way does SCRS or the participating companies indicate the study will be placed at the site. The same process for site selection will be carried out and the ultimate decision of site selection is left completely to the companies involved with the study.
How Patient Engagement Helped Drive Progress at CTTI in 2020
Patient engagement is woven into the core of the Clinical Trials Transformation Initiative (CTTI), a leading public-private partnership co-founded by Duke University and the U.S. Food and Drug Administration (FDA).
Since its inception in 2007, CTTI has advocated for meaningful patient engagement at every step of the research process. A mantra at CTTI is "engage patients early and often" during trial design and conduct. Over the years, patients have played critical roles at all levels at CTTI: on the Executive and Steering Committees, through leadership and participation on project teams, and in other activities.
In 2020, amid the chaos and uncertainty created by the global pandemic, patient engagement continued to play a strong and steady role in CTTI's work. Patients and patient groups worked alongside regulators, industry, academia, and others as part of CTTI to develop solutions to improve clinical trials. Accomplishments this year include:
Looking ahead to 2021, CTTI will announce two new patient representatives who will join its Steering Committee and will also have patient and patient group involvement on new CTTI project teams – Novel Endpoint Acceptance and Trials in Health Care Settings – as well as ongoing and forthcoming work.
The continued input of all stakeholders, including patients, is critical to the advancement of CTTI's work and to clinical research as a whole.
Sites NOW December Session: Diversity in Clinical Trials
Diana Foster, PhD
Vice President, Strategy and Special Projects
SCRS
"Diverse patient populations have different responses to certain pharmaceuticals and ignoring this poses a significant community and global health risk." These words from Diana Foster, Ph.D., SCRS's Vice President of Strategy and Special Projects, launched and encapsulated the December 2020 Sites NOW session. Clinical executives convened to discuss the urgency of creating viable mechanisms to increase diversity in clinical trials in a content-rich forum focused on identifying solutions for sponsors and sites.
SCRS Sites NOW is a virtual discussion and content project created in response to the COVID-19 pandemic and focused on the changing landscape clinical research sites and industry partners now face. Each session is centered around a singular topic; in December, the topic was diversity in clinical trials. Attendees benefit from an opening presentation hosted by an industry leader who provides a unique perspective and meaningful metrics on the topic at hand, then break out into groups for a dynamic discussion guided by relevant queries designed to identify areas of opportunity for participants in the clinical research pipeline.
In her presentation, Dr. Foster emphasized the importance of diversity inclusion and equity now and in the future. She shared the regulatory perspective that the need to broaden eligibility criteria for studies starts with the sponsors, who must adopt best practices to ensure that the clinical trial participants reflect the diversity of the population who will be using the drug once it is approved. Dr. Foster identified objectives for sponsors in study initiation, including listening to the site's needs, understanding patients and their barriers to entry, and transparency with site partners about diverse recruitment aims.
One key initiative developed by the SCRS Diversity Project explored by Dr. Foster is the SCRS Diversity Site Assessment Tool (DSAT). The DSAT is a self-assessment instrument that has been launched by SCRS and designed to evaluate the extent to which best practices related to recruitment of diverse patient populations during clinical trials are used by the site. Once a site responds to the queries contained in the DSAT, the tool analyzes the information provided and scores the site on its effectuation of diverse clinical trials. The site can then understand and address the areas of opportunity identified by the DSAT; the site can also provide its score to sponsors as a tangible indicator of its ability to execute diverse trials. Dr. Foster reported that over 400 sites have already used the tool to their benefit, and the information collected from these and forthcoming participants will aid SCRS in the development of resources targeted towards enhancing identified areas of improvement.
A singular theme that characterized every proposed strategy and solution in the breakout sessions emerged following Dr. Foster's presentation: trust. Trust between the sponsor and the site, trust between the community and the site, trust within the site, and trust between the patient and site. It was identified that trust must be implicit in every action and communication comprising the causal chain of study initiation, development, and execution. Trust is born out of transparency, which begins with the sponsor being clear from the beginning with the site about diversity goals and desired timelines in a specific study. Transparency is also essential in the messaging used by the site during the enrollment phase to address patient questions and outline expectations. Trust is additionally generated by relationships; it was emphasized that the site has a duty to establish and maintain relationships in its community at all times, not only during phases of enrollment. Trust is further established through clear lines of communication, both between the sponsor and the site and the site and its patients. By session's end, it became clear that through the creation of resources, messaging, and training designed to generate and foster trust between all stakeholders, the future of clinical trials is limitless.
SCRS Sites NOW will be convening each month. For details, visit https://myscrs.org/scrs-sites-now/.
About the Author
Amanda Ascoli
Communication Specialist
SCRS
Sites NOW Participating Organizations
AbbVie  |  Accel  |  Accellacare (ICON Plc)  |  Advarra  |  AstraZeneca  |  Bio-Optronics  |  BRANY  |  Bristol Myers Squibb  |  BTC/ClinEdge Site Networks  |  Clearwater Cardiovascular Consultants  |  ClinEdge  |  Clinical Site Partners, LLC  |  Clinical Trials of Texas, Inc.(CTT)  |  Clinical.ly  |  Clinvest Research  |  Complion  |  Covance  |  CTMD Clinical Research  |  DM Clinical Research  |  East Coast Institute for Research  |  Elite Research Network  |  Evolution Research Group  |  GlaxoSmithKline  |  Greenphire  |  HCA Healthcare  |  ICON, plc  |  Janssen R&D  |  LMC Manna  |  Research Medical deScriptions  |   Medix  |  Medpace  |  Meridian Clinical Research  |  Northwell Health  |  OrthoIllinois  |  Oviedo Medical  |  Research  |  Parexel  |  Pfizer  |  Pharmaseek  |  PMG Research  |  Prime Site Research Solutions  |  RealTime Software Solutions  |  Ripple  |  Science Corporation  |  Roche  |  RX Trials  |  Sanofi  |  Sentral Clinical Research Services  |  South Broward Research  |  StudyKIK  |  SubjectWell  |  Suncoast Clinical Research  |  Syneos Health  |  Synergy Clinical Research  |  Total Clinical Trial Management  |  Trifecta Clinical  |  Veeva  |  Veterans Research Foundation of Pittsburgh  |  VirTrial  |  WCG  |  PharmaSeek
Successful Techniques for Accelerating Recruitment
Vaccine Trial Heroes
From behind their desks, pharma executives fill our daily timelines with good and promising data about COVID-19 vaccines. In front of their cameras, evening TV personalities enthusiastically discuss, analyze and evaluate the latest information. But who are the people who really ensure that the vaccine is available quickly?
When developing a drug—or in this case a vaccine—many parties are involved whose contribution never comes in front of the TV cameras. Ethics committees, CROs, and data teams work behind the scenes. And what about the physician investigators and the study participants themselves?
With limited information, physicians must decide whether to participate in a clinical trial. They must consider whether they want to expose their patients or healthy volunteers to a product that is still under development. Once they decide, they have to be able to stand behind their decision 100%.
The next person to make this most important decision is the patient. Ultimately, study participation rests on the joint decision of the physician working together with the participant. The doctor will provide the participant with maximum information and ensure that they are capable of making an informed decision for themselves, a decision that is not just scientific but also very personal.
The physician investigator has the obligation to protect the participant if they are unable to understand the decision they are making, if they may have additional risks that the average person does not face, or if their hopes for how participation in the trial may benefit them run far ahead of reality. A continuous assessment of potential advantages and disadvantages is required of both the physician and the participant, not only at the screening visit but throughout the study.
Most participants I have worked with indicate that they want to participate for science. They are selflessly investing time and energy into something for which there is no guarantee that they will benefit from it themselves. After all, the drug or vaccine may not work, may cause side effects, or may be a placebo. Despite all these downsides, these participants are driven to make a fundamental contribution to finding solutions.
As I was writing this, about 100,000 people have now participated in one of the COVID-19 vaccine studies. By the time you read it, there will be even more. These participants, their physicians, and the research teams are the real experts by experience. With them are all the clinical research specialists who made these studies happen so quickly, who are executing them faster than normal, collecting and entering data for real-time interim analysis.
This column is usually a place to highlight how to get participants enrolled into studies. But today we're going to pause in thankfulness for the participants who have already enrolled in a variety of studies, including these crucial COVID-19 studies, and also for all the specialized clinical research workers who won't be talked about in the news analysis. Working together, they show us more than what we wish for. They provide a positive but most importantly an objective and accurate picture of the vaccine and vaccine development. As we wish for a better future for infectious disease and for all the conditions that we work to prevent and treat, these volunteers and workers are "the wind beneath the wings."
Based on an article originally written in Dutch for the NVFG.
About the Author

Vivienne van de Walle
Research physician and Medical Director of the independent research site PT&R – The Netherlands
Founded in 2012, SCRS is a global trade organization that unifies the voice of the clinical research site community to create greater site sustainability. Representing over 9,500 sites in 47 countries, SCRS membership provides sites with a community dedicated to advocacy, education, connectivity and mentorship. SCRS is an influential voice for sites and an active partner in industry-wide initiatives and dialogues focused on improving the clinical research enterprise. Our Voice. Our Community. Your Success. Join the community.