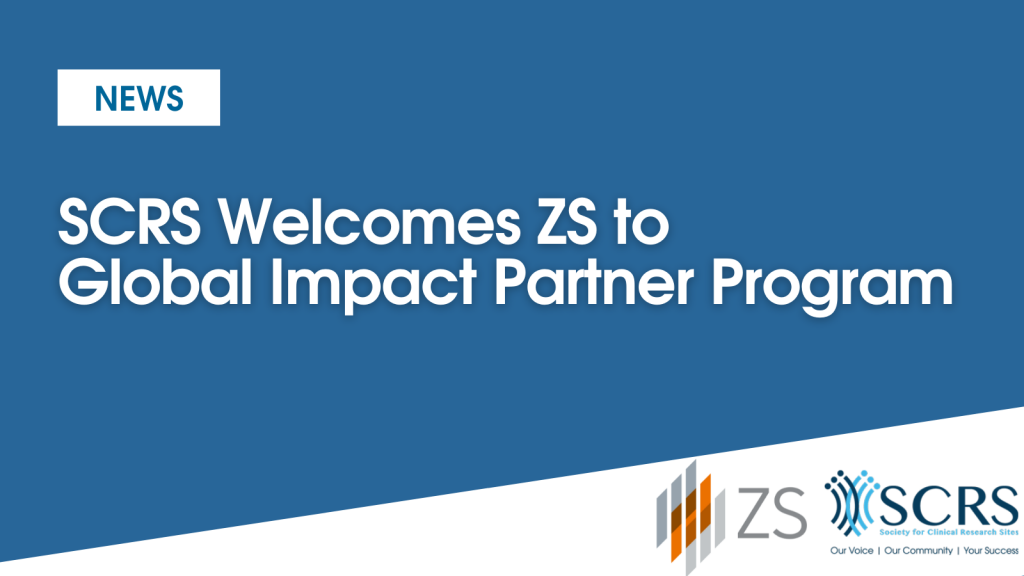 Hanover, MD, October 20, 2021 – The Society for Clinical Research Sites (SCRS) today announced that ZS, a global professional services firm that leverages strategy, analytics, and technology to develop solutions for a range of industries, has joined the organization as a Global Impact Partner (GIP). The SCRS GIP program is comprised of sponsors, CROs and industry solution providers and provides a unique opportunity to engage with the clinical research site community in meaningful ways.
Becoming a GIP demonstrates ZS's commitment to contribute to the development and implementation of site-focused solutions in the marketplace. Working with the SCRS Leadership Council, ZS will have the opportunity to participate in important discussions and SCRS initiatives that help give sites a stronger voice within the global research community.
"ZS is excited to partner with SCRS. This partnership reinforces our commitment to supporting clinical sites with our expertise in analytics, data and technology, while also focusing on the voice of patients—as we like to say, combining the mind with the heart," said Mike Martin, ZS principal and clinical development lead.
"Collaboration in the research industry is now more important than ever," said Sean Soth, SCRS' Vice President of Global Business Partnerships. "ZS wants to be a connector of sites, patients, and sponsors which is in line with the SCRS mission. The SCRS team is eager to work with ZS as a Global Impact Partner to ensure better industry collaboration and ultimately site sustainability."
###
About ZS
ZS is a professional services firm that works side by side with companies to help develop and deliver products that drive customer value and company results. We leverage our deep industry expertise, leading-edge analytics, technology and strategy to create solutions that work in the real world. With more than 37 years of experience and 10,000-plus ZSers in 28 offices worldwide, we're passionately committed to helping companies and their customers thrive. To learn more, visit www.zs.com or follow us on Twitter and LinkedIn.
About Society for Clinical Research Sites
The Society for Clinical Research Sites (SCRS) is a global trade organization founded in 2012 which represents over 9,500 research sites in 47 countries. SCRS' mission is to unify the voice of the global clinical research site community for greater site sustainability. As an influential voice for sites and an active partner in industry-wide initiatives and dialogues focused on improving the clinical research enterprise, SCRS membership provides sites with a community dedicated to advocacy, education, mentorship and connectivity. For more information, visit MySCRS.org.