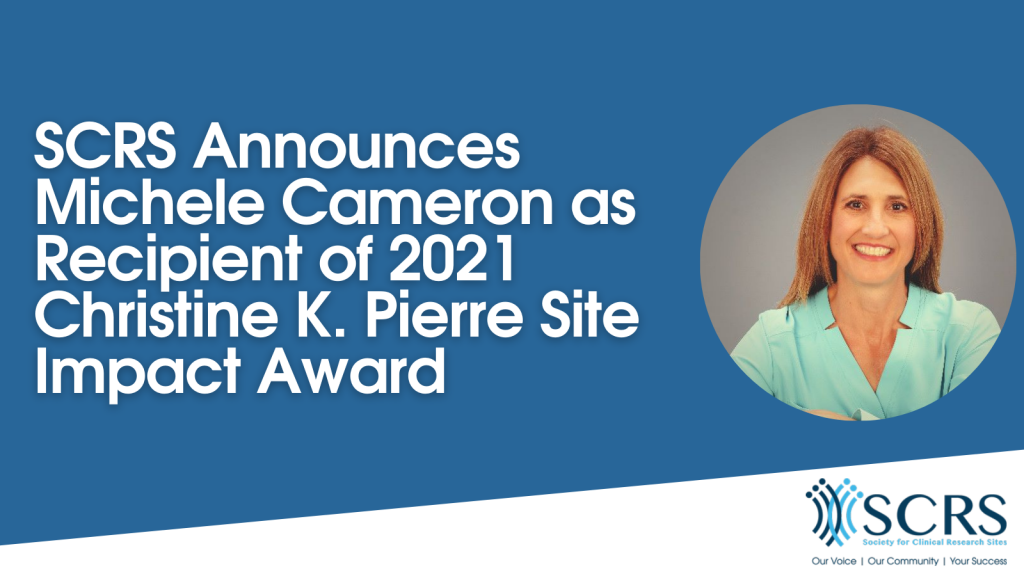 Contact:
SCRS Communications
Society for Clinical Research Sites
410.696.5080 x150
FOR IMMEDIATE RELEASE
SCRS Announces Michele Cameron as Recipient of 2021 Christine K. Pierre Site Impact Award
Hanover, MD, October 11, 2021 – Today the Society for Clinical Research Sites (SCRS) announced that Michele Cameron, BSN, MBA, CCRC, Director of Clinical Research at Clearwater Cardiovascular Consultants, has been awarded the 2021 Christine K. Pierre Site Impact Award.
SCRS founder, Christine Pierre, was an industry leader who dedicated almost three decades of her life to advancing the work and voice of clinical research sites. In honor of her work and legacy, SCRS created the Christine K. Pierre (CKP) Site Impact Award to recognize an industry leader who has made an extraordinary contribution to furthering the voice of the clinical research site community. Nominations were made by the clinical research site community and open to any individuals employed by an SCRS member site. Michele Cameron was selected as the recipient of this year's award by SCRS leadership.
Cameron has worked in the clinical research industry for more than 15 years and has been an active member of the Society of Clinical Research Sites since its launch in 2012. She has been an integral part of monthly Sites NOW meetings, two SCRS committees, and a speaker at Summits, webinars and other industry conferences on behalf of SCRS. Cameron accepted the award at the Eagle Award Gala at the 2021 Global Site Solutions Summit with more than 800 clinical research industry stakeholders in attendance.
"Christine Pierre was a visionary. She understood, before all of us, that sites needed a united voice to achieve change and improve the clinical research industry as a whole. Christine courageously took those first steps into uncharted water and then with her passion, wit and drive, pulled us all along with her. Our industry and ultimately our patients are better because of her SCRS legacy. My personal mission includes working to unite sites in the spirit Christine intended," said Cameron.
"Michele Cameron's contributions to assure clinical research sites have a voice is instrumental to site sustainability and the mission of SCRS. The realness, dedication, kindness, knowledge, and passion Michele brings to our industry is heartfelt and genuine," commented Allyson Small, SCRS Chief Operating Officer. "Congratulations to Michele for her well-deserved win of the 2021 CKP Site Impact award!"
###
About Society for Clinical Research Sites
The Society for Clinical Research Sites (SCRS) is a global trade organization founded in 2012 which represents over 9,500 research sites in 47 countries. SCRS' mission is to unify the voice of the global clinical research site community for greater site sustainability. As an influential voice for sites and an active partner in industry-wide initiatives and dialogues focused on improving the clinical research enterprise, SCRS membership provides sites with a community dedicated to advocacy, education, mentorship and connectivity. For more information, visit MySCRS.org.