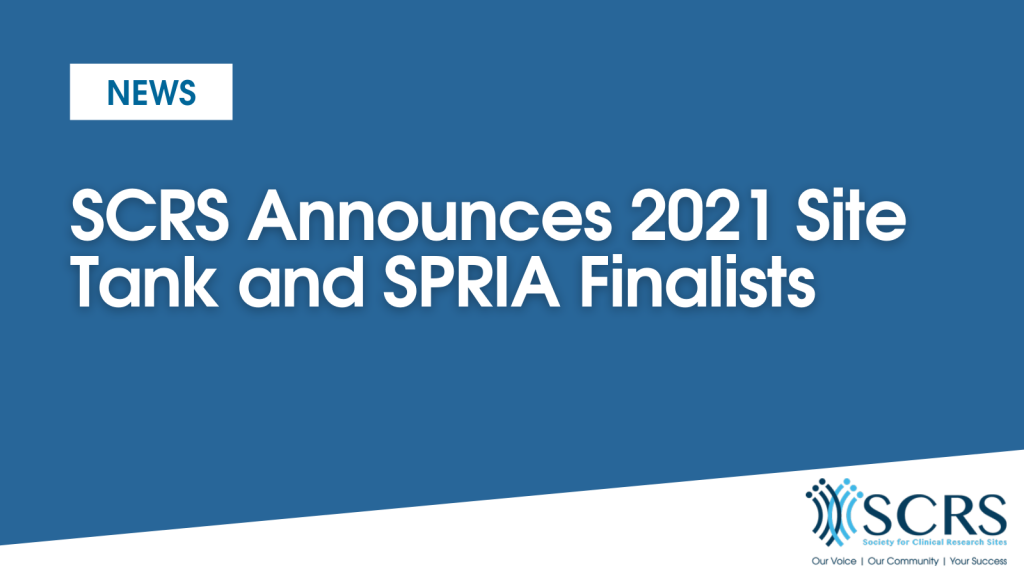 Contact:
SCRS Communications
Society for Clinical Research Sites
410.696.5080 x150
FOR IMMEDIATE RELEASE
SCRS Announces 2021 Site Tank™ and SPRIA Finalists
Hanover, MD, August 26, 2021 – Today the Society for Clinical Research Sites (SCRS) is pleased to announce the finalists for the 2021 Site Patient Recruitment Innovation Award (SPRIA) and Site Tank.
The two prestigious awards are part of SCRS' annual Global Site Solutions Summit and celebrate clinical research sites' innovative technology ideas or patient recruitment strategies. The Site Patient Recruitment Innovation Award (SPRIA) recognizes sites that employ innovative strategies to achieve enrollment success. For Site Tank, sites submit their innovative technology ideas to enhance, empower and improve clinical research operations and transform business models.
Congratulations to the 2021 Site Tank finalists: Elligo Health Research, DM Clinical Research, and Cedar Health Research. 
Congratulations to the 2021 SPRIA finalists: Centennial Medical Group, Aventiv Research, and Meridian Clinical Research.
"Participation in Site Tank and SPRIA showcases sites' inventive programs and strategies they have worked so hard to develop and achieve," said Allyson Small, SCRS Chief Operating Officer. "SCRS wants to wish the finalists a heartfelt congratulations. We are excited for the finalist organizations to present their ideas to improve, streamline and simplify the execution of clinical trials."
The finalists will be invited to attend the 2021 Site Solutions Summit with a complimentary registration, where they will share their ideas and strategies to an audience of executives from sites, sponsors, and CROs. A judging panel consisting of executives from the clinical research industry will select the winning organization.
Learn more about Site Tank and SPRIA. Register for the 2021 SCRS Global Site Solutions Summit this October in Hollywood, Florida today.
###
About SCRS
Founded in 2012, SCRS is a global organization that unifies the voice of the clinical research site community to create greater site sustainability. Representing over 9,500 sites in 47 countries, SCRS membership provides sites with a community dedicated to advocacy, education, mentorship, and connectivity. SCRS is an influential voice for sites and an active partner in industry-wide initiatives and dialogues focused on improving the clinical research enterprise. Our Voice. Our Community. Your Success. Visit MySCRS.org to learn more.