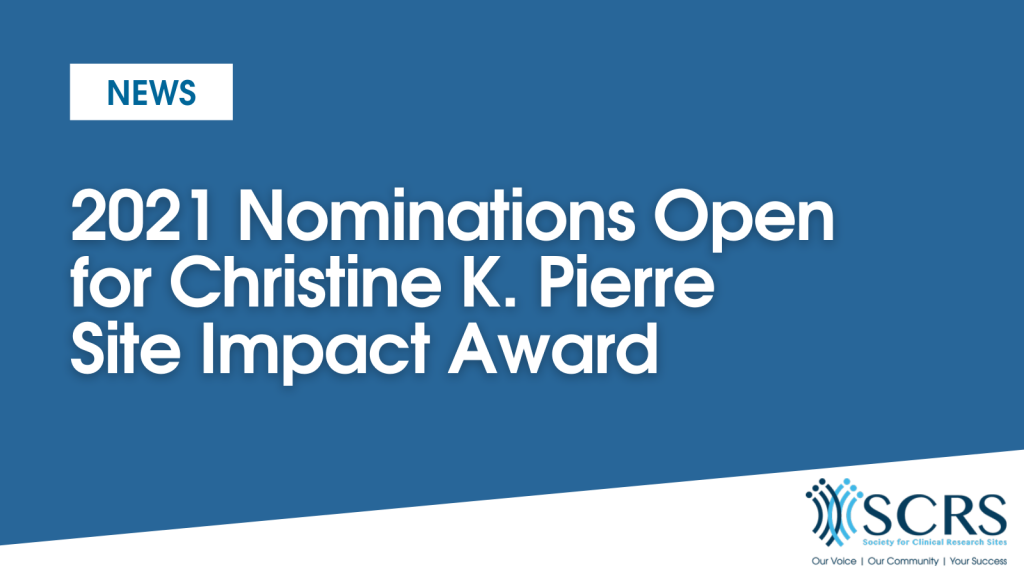 Contact:
SCRS Communications
Society for Clinical Research Sites
410.696.5080
communications@myscrs.org
FOR IMMEDIATE RELEASE
Hanover, MD, July 30, 2021 – SCRS announced today that it is now accepting nominations for the third annual Christine K. Pierre (CPK) Site Impact Award. The Christine K. Pierre Site Impact Award was created in honor of SCRS founder Christine K. Pierre and recognizes individuals who set the standard for innovation and excellence in the clinical research community.
Nominees must be an active SCRS member who has made significant contributions towards the achievement of SCRS's mission to attain site sustainability. Individuals eligible for nomination are those who manifest the pillars of SCRS by educating, mentoring, connecting, and advocating for clinical researchers. The application features an essay component that should detail how the nominee has impacted the site landscape.
"SCRS founder Christine K. Pierre dedicated her life's work to advocate on behalf of clinical research sites around the globe," commented SCRS Chief Operating Officer, Allyson Small. "This prestigious award showcases her innovation, passion, and vision and inspires everyone in the industry to eternize her vision and legacy. We are excited to present this year's CPK Award to a deserving individual that is exemplifying the mission of SCRS."
"Receiving the Christine K. Pierre Site Impact Award was a great honor and surprise," said Kay Scroggins, CEO of Clinical Trials of Texas, LLC. "Christine was a powerful and amazing change agent in our clinical research industry. She was and continues to be a guiding light to sites.  Her groundwork and progress gave knowledge to research sites which in turn gave us voices to continue improving this industry.  This award means so much to me, SCRS, and the entire clinical research site community. I am very grateful for the opportunity to collaborate with SCRS to perpetuate Christine's legacy and create a better future for clinical research sites globally."
Nominations can be submitted through the Christine K. Pierre Site Impact Award page until September 6th, 2021. The SCRS leadership team and Leadership Council will review submissions and select the winner, which will be announced at the Global Site Solutions Summit in Hollywood, Florida October 1-3, 2021.

###

About SCRS
Founded in 2012, SCRS is a global organization that unifies the voice of the clinical research site community to create greater site sustainability. Representing over 9,500 sites in 47 countries, SCRS membership provides sites with a community dedicated to advocacy, education, mentorship and connectivity. SCRS is an influential voice for sites and an active partner in industry-wide initiatives and dialogues focused on improving the clinical research enterprise. Our Voice. Our Community. Your Success. Join the community. Visit MySCRS.org.