Contact:
Jessica Knott
Sr. Communications Manager
Society for Clinical Research Sites
410.696.5080 x120
jessica.knott@myscrs.org
FOR IMMEDIATE RELEASE
SCRS Announces the Launch of New and Improved Website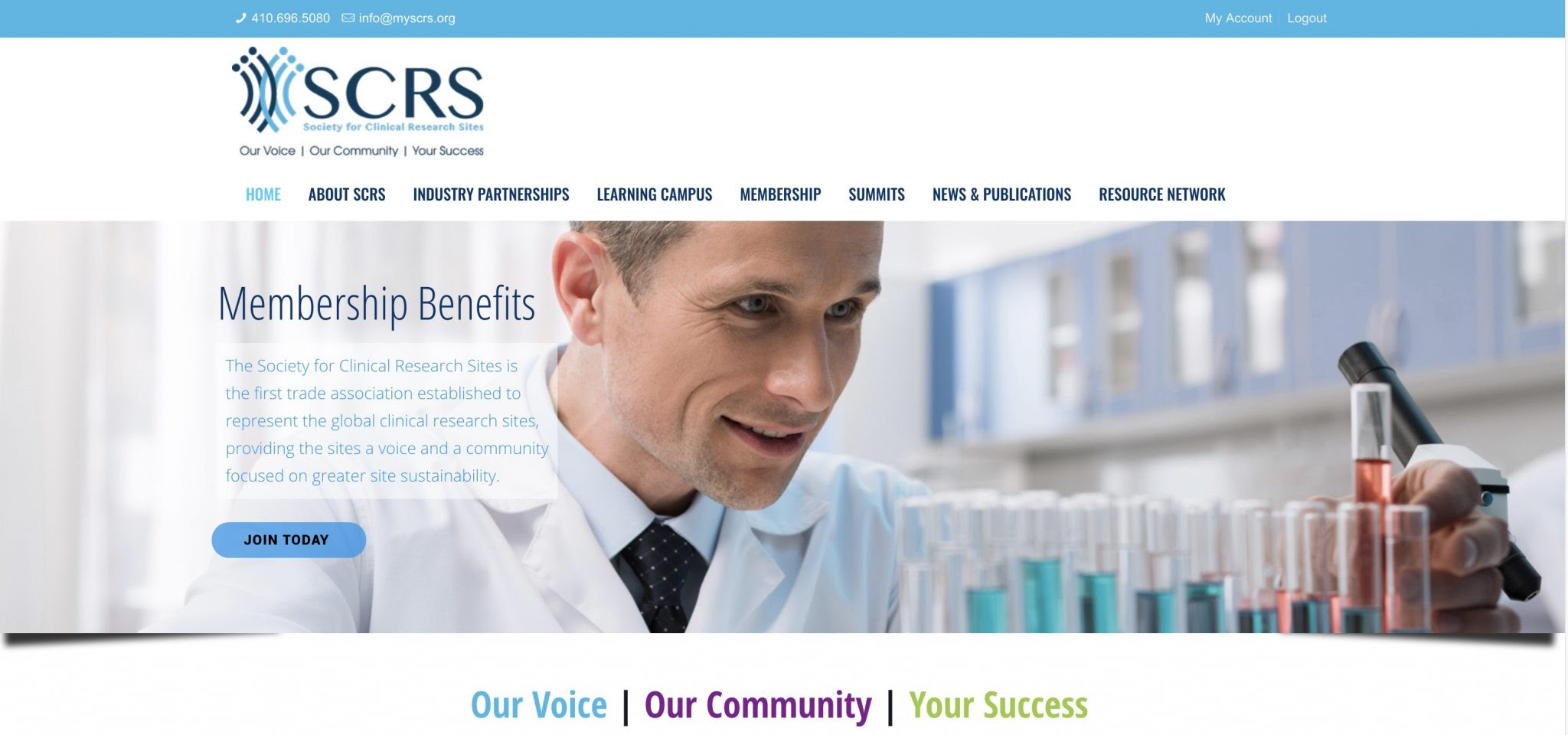 Ellicott City, MD, March 7, 2019 – The Society for Clinical Research Sites (SCRS) is pleased to announce the launch of our new website at MySCRS.org. The improved website provides visitors with a refreshed look, enhanced navigation tools, and easier access to information about upcoming SCRS events. SCRS members will also benefit from improved access to membership features and benefits.
In addition to the launch of the new website, SCRS has implemented an updated membership management system that makes it easier for SCRS member sites to manage their accounts and register for upcoming webinars and Summits, with more features being added soon. This will enable primary company contacts to easily manage their company account and the accounts of employees at their organization.
SCRS Global Impact Partners (GIPs) will be able to take advantage of improved account management options as well, both at MySCRS.org and via the SCRS Programs website, designed specifically for GIPs.
"We are excited about the release of our new website, and believe it beautifully showcases the benefits and services we provide to SCRS members and partners," said SCRS VP of operations, Allyson Small. "This is another way that we are working to provide the best experience to our site members, corporate partners and visitors."
To log in to the new website, SCRS member sites will need to create a new password, which can be done by going to the forgot/reset password link here and following the instructions provided. If you have any issues logging into your account, please contact SCRS Member Services at membership@myscrs.org.
###
About SCRS
Founded in 2012, SCRS is the trade organization that unifies the voice of the clinical research site community to create greater site sustainability. Representing over 9,500 sites in 47 countries, SCRS membership provides sites with a community dedicated to advocacy, education, connectivity and mentorship. SCRS is an influential voice for sites and an active partner in industry-wide initiatives and dialogues focused on improving the clinical research enterprise. Our Voice. Our Community. Your Success. Join the community. Visit MySCRS.org.