By Clinical ink
Technologies come and technologies go. But how do you know when it's time to abandon a familiar system for the latest innovation – especially when it involves a significant investment? Drug Sponsors are faced with that very question now when it comes to electronic data capture (EDC) systems. When – and how – should they begin relying instead on solutions that allow trial data to be captured directly from the source, at the moment of inception, for storage in a flexible eSource ecosystem?
There are strong arguments to be made for Sponsors to begin making a gradual transition now. As their decisions ultimately affect how investigators and other site staff will work day to day, it's worth understanding what they'll be considering…
EDC Systems Have a Shelf Life
Two decades ago, Electronic Data Capture (EDC) systems were heralded as the answer to a very specific need at clinical trial sites: they allowed for electronic versions of case report forms. Although in recent years EDC vendors have attempted to support the capture of other forms of electronic trial data, the process is complex and far from seamless. It is time-consuming and costly, making the final application impractical and inefficient.
The inescapable fact is that EDCs were never meant for more than that original, narrow application. And tasking them with more – to accommodate the broad range of electronic data used in clinical trials today – has required makeshift solutions. Even so, as trials become increasingly decentralized and aim to capture data directly from patients, EDC systems are rapidly becoming insufficient; they cannot, and were never developed to, handle the volume and continuous nature of data coming from the more advanced data sources being used in trials today.
An EDC might be able to ingest a simple data stream from a wearable such as the patient's total step count in a day. However, EDC systems are wholly inadequate for ingesting, securing storing, and analyzing the complex data streams that more complex trials, including ones that necessitate digital biomarkers technology, produce. Such vital data might include an assessment activity, passive data streams, or cognitive testing, for example.
The Advantages of Direct Data Capture
Direct data capture (DDC) software can capture trial and patient source data that is initially recorded in an electronic format as eSource data. These eSources include:
· Telehealth visits
· The eConsent process
· Laboratory results
· Electronic Clinical Outcomes Assessments (eCOA)
· Electronic Patient Reported Outcomes (ePRO)
· Sensors and wearables data
· Digital biomarker analysis technology
· Patient engagement platforms
What's more, the software is flexible enough to gather information from various formats, including videos, images, voice and hand-written notes. Ideally, eSource data are ingested into a unified data platform to support analytics within and across studies, regardless of how it is captured or by whom.
DDC systems, having been designed to support modern trials that may have decentralized elements and aim to be operationally streamlined, offer a host of benefits to Sponsors, contract research organizations (CROs), investigator sites, and patients themselves. Sites that have the good fortune to begin using DDC systems will benefit from:
· Reduced administrative burden. There are no paper-based sources and no need for transcription. This eliminates duplicate efforts, requires no source data verification (SDV), and results in dramatically fewer data queries.
· Support for a patient-centered journey. All data points from patients are captured directly, in real-time.
· Improved visibility and management of data. This extends across visits, devices, sensors, telemedicine and digital health technologies and eliminates the delays and data inaccuracies associated with paper records.
· A cohesive audit trail across systems, users, and data sources.
· Compliant long-term storage. Trial data can easily be stored and results duplicated for as many years as required by regulators.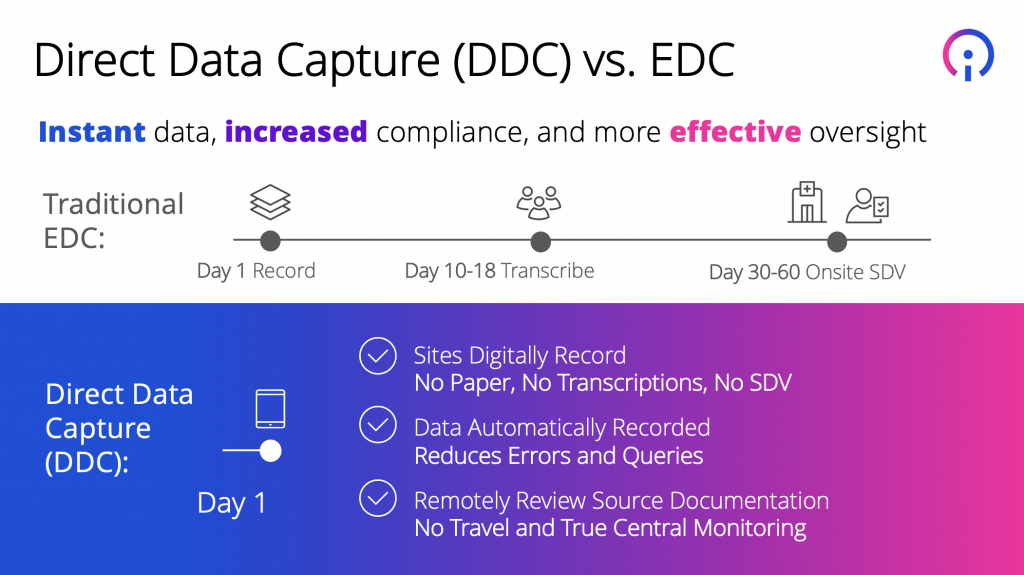 Sponsors, for their part, will enjoy:
· Instant access to data for increased compliance and more effective oversight (as compared to an often 60-day time lag with data captured in EDC systems).
· Higher-quality data owing to fewer opportunities for human error.
· True central monitoring, as source documentation is reviewed remotely, eliminating the need for monitors to travel to sites.
· Improved compliance and pharmacovigilance. With data collected from any source and stored in one data set, research teams are empowered with real-time visibility and context for immediate monitoring that ensures patient safety and compliance with regulations.
· Peace of mind, knowing that they are making insight-based decisions from complete, timely, accurate trial data.
A Recommendation: Gradual Adoption
Considering that EDC systems are supporting trials that are underway and that adopting new technology requires an investment in software and training, it would be advisable for Sponsors to "sunset" EDCs over time, gradually converting to DDC for upcoming trials. Then, over time, as DDC is applied to all new trials, the old EDC systems will gradually be used in fewer and fewer trials and take their place in the technological dustbin.
Admittedly, even a gradual transition will call upon site staff to learn new software, but it will be a means to an end that portends dramatically less administrative work for sites and a better trial experience for all.