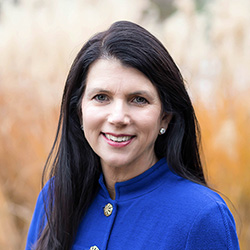 October 23, 2018 – The SCRS team is deeply saddened to share that SCRS founder and president, Christine Pierre, passed away today.
Christine was diagnosed with ocular melanoma in early 2017. After surgery and receiving a positive prognosis from her doctors, she returned to life as normal – perhaps with a bit more reverence for what it means to live. In the time after her diagnosis, Christine poured herself into shaping the next generation of leadership at SCRS; she positioned the organization for a successful 2018 Global Site Solutions Summit and created a succession plan to ensure that SCRS would continue to grow and thrive.
In early 2018, we learned that Christine's cancer metastasized to her liver. She entered a number of clinical trials that afforded her more time with loved ones.
Outside of her family and friends, Christine's greatest love was the dynamic organization she built. If there is a message she wanted to instill, it is the importance of the clinical research site industry. Christine dedicated almost three decades of her life to advancing the work and voice of clinical research sites. With this passion and vision, she conceptualized the first Site Solutions Summit in 2006 and founded the Society for Clinical Research Sites in 2012.
Christine was an industry leader in the site arena and has represented the site community globally through hundreds of speaking engagements and research articles published in her name. Her contribution to furthering the sustainability of clinical research sites is unmatched. Having grown from 12 attendees to almost 1,000, the Global Site Solutions Summit is now recognized as the leading conference representing clinical research sites and is just one component of the work she has contributed to advancing clinical research.
In her honor, we will continue to work and live the mission of SCRS to unite the voice of the global clinical research site community for greater site sustainability. SCRS remains in steadfast dedication to the site community so that we can continue saving lives and improving the quality of life by delivering safe and effective medications to patients faster.
Visitation with the family will take place on the following dates:
Sunday, October 28, 1:00pm – 4:00pm EDT
Beall Funeral Home
Bowie, MD
Monday, October 29, 10:00am – 11:00am EDT
Our Lady of the Fields
Millersville, MD
A memorial service will be held:
Monday, October 29, 11:00am EDT
Our Lady of the Fields
Millersville, MD
In lieu of flowers, please make a gift in memory of Christine Pierre to support the ongoing ocular melanoma research being conducted by her doctor, Geoff Gibney, at the Lombardi Comprehensive Cancer Center. Information can be found on the Lombardi Giving Page.