May 2019
Welcome to the May issue of InFocus, where we provide insights and solutions to help sites and other stakeholders ensure site sustainability.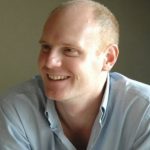 Guillermo Ortiz founded and is president of Fundación Estudios Clínicos, a group of five sites in Argentina, in 2012. Shortly thereafter, Ortiz founded Pacific Pulmonary Research, a dedicated research center in San Diego, CA. I (SCRS) caught up with Ortiz (GO) at SCRS' 2019 European Site Solutions Summit in London to learn more about his history in the industry and his perspective on the future of clinical research.
SCRS: How did your career in the clinical research industry begin?
GO: I graduated with a degree in Business Administration, and soon thereafter founded a construction company – a long way from where I am today! The first building we worked on was a ten-story ambulatory clinic with more than 80 medical offices, hospital rooms, operating rooms and laboratories. Our company was contracted to create a research center in the building – this was my first introduction to clinical research. After only a couple of years in construction, I realized this was not the career for me. As luck would have it, soon thereafter I was contacted by a US physician who was interested in starting a research center in my hometown in Argentina. I didn't know it at the time, but building that business was the start of a career that I have become increasingly passionate about the longer I am in it.
SCRS: How did you navigate your entry into clinical research?
GO: Starting a clinical research center was difficult – I was not a physician, yet was trying to recruit physicians to join a brand-new center that had not yet been awarded a clinical trial. Eventually we recruited a physician, and our next step was to find a sponsor to take a chance on us. It took a long time to find that sponsor, but once we did, we were awarded several other studies. Doctors began to approach us – no more chasing them down – to work with us.
SCRS: What keeps you invested in the industry?
GO: The most important motivator for me is the personal satisfaction of being able to help people and witness their quality of life improve, not only because of the care we provide but also because participating in a clinical trial encourages each patient to become more invested in their own well-being. Often, the simple act of listening to and just being with our patients makes a big difference in their lives. Secondly, I stay because I am so deeply inspired by the people who work in our industry. Everyone is so dedicated to their work, no matter what countries we live in or languages we speak. Each day I get to go to work to do something that I absolutely love.
SCRS: What do you see as one of the industry's biggest challenges within your professional spectrum?
GO: From my point of view as a research center owner, what worries me most is the lack of study profitability. Budgets are increasingly reduced, which means there is less capacity to recruit for each study. Often, the effort involved in recruiting patients who fulfill all of the inclusion/exclusion criteria takes months, and that time is never reflected in the budget.
SCRS: How does your organization navigate this challenge?
GO: We try to keep things simple, starting with our own research staff. We look for employees who are proactive, multi-talented and hungry to learn. We don't hold our staff to fixed schedules; they are allowed to come and go as they please as long as their work is completed in a timely manner and complies with the sponsor's requirements. This has fostered a level of trust and dedication among our staff. Further, in our work model no one has a salary. Instead, everyone receives a percentage of the profit share of the study, which acts as an additional factor that motivates study enrollment. While this model certainly wouldn't work for everyone, it works well for us.
SCRS: How would you like to see sponsors address this challenge?
GO: I'd like to see more sponsors putting themselves in the shoes of the research site so that they can intimately understand our struggles and needs. I'd like to see all activities carried out by sites outlined in study contracts and budgets and adequately compensated. I'd like to stop hearing responses like, "That is the cost of doing business." These changes would not only improve site profitability – it would also improve the sponsor-to-site relationship. SCRS has done a lot of work to improve site payment terms, which has been incredibly valuable. An individual site asking for monthly payment feels like an impossible achievement, but SCRS has provided us with a platform where our voice is united, and our needs are heard and addressed.
SCRS: If you could give sites one piece of advice to increase their sustainability, what would it be?
GO: Analyze, request and justify. Sites should ensure that they are analyzing the time and activities required for each study so that they can understand the associated costs. Then, request that the sponsor pay you for these activities. Present a justification for every cost to demonstrate the need and value of your request. Finally, do not accept the budget set by the sponsor for fear of not being chosen; it is worse to accept a study that does not provide adequate support than to value your site's needs by turning down these studies.
Predicting the Future of Clinical Trials
Clinical trials have been and are an integral part of the drug development process.  However, today, about 90% of U.S. trials fail to hit recruitment targets on time and 27% of investigator sites are unable to enroll a single qualified patient. Recruitment and retention issues come at a significant cost across the industry, draining needed site budget allowances and costing pharma companies up to $37,000 per day1. Inefficient patient recruitment practices have been a major factor in skyrocketing R&D costs. Other industries adopted technology to improve efficiency years ago, and some new technologies have been introduced for use in clinical trials, but which technologies best serve the site community remains unclear. There are varying opinions on how it will evolve, but little debate that it will evolve.
Clinical research's future pathway is unfolding before our eyes, and the impending changes within the industry should not be taken lightly. It is important for research sites to stay up-to-date, explore options, and begin to prepare for changes in the way research is conducted to ensure their sustainability. Here are the three primary schools of thought on the topic and how they could affect your business:
         1.  Virtual trials will fail, and the process will return to the status-quo.
As with any significant change to long-standing processes, there is always a possibility that the change will fail to "stick". Some in the industry contend that clinical research should continue to be conducted 100% in-person, arguing that only in-person, face-to-face interactions can elicit the level of thoroughness clinical research requires, and that this is lost in a virtual experience. Their belief is that virtual trials will be a flash in the pan and when they fail, the industry will return to its previous state.
It is highly unlikely that this scenario will come to pass, as the value of hybrid trials and the integration of technology continues to be demonstrated within the clinical research space. Consider similar scenarios from other industries:
When Netflix incorporated in the late 1990's, Blockbuster was not concerned. They were skeptical that people would prefer to have movies delivered to their residence directly vs. shopping for them at a brick and mortar store. Because they failed to recognize the imminent change afoot and didn't shift their business model, they were eventually overtaken by what is now the world's leading internet entertainment service, with more than 148 million paid memberships in over 190 countries. Another well-known example is Uber, which has cannibalized the traditional taxi business.
        2.  Clinical research will become 100% virtual.
On the opposite extreme are virtual trial solution providers that promote an entirely "site-less" model in which there are no physical sites to visit at all. A few sponsors who are 'early adopters' that embrace new technologies have started testing this model. Unfortunately, jumping straight into a fully virtual model has several fundamental problems.
First, only a very small percentage of studies (<1%)2 are designed as 100% virtual in their protocol. Notable trials, including some conducted by top-5 pharma companies, have been tested in an entirely virtual model and demonstrated poor retention rates3 compared to expectations. Part of the explanation for this is that the model creates an additional burden on patients, who are required to participate solely via technology with zero in-person support.
        3.  A hybrid approach that combines in-person and virtual visits will prevail.
A well-known proverb comes to mind here: Moderation in all things. While there is a bit of truth, and definite benefits, to each of the above scenarios, it is most likely that some combination of the two will become the prevailing solution.
While the human element can never be fully replaced with technology, there are numerous occasions when a virtual visit is not only sufficient, but preferred. For instance, statistics show that 87% of patients want to participate in clinical trials4, yet 70% of them are not able to because they live more than 2 hours away from the nearest study center5. 54% of potential patients would participate in a trial if it offered virtual visits as an option6.
A hybrid approach enables both patients and sites to benefit from the value-add of virtual trials while maintaining a percentage of in-person visits. A drive toward hybrid trials takes advantage of the best of both worlds and provides benefits for patients, sites, and sponsors alike.
References:  1. Medical Marketing Insights, D. Stempel, January 2017 | 2. Clinicaltrials.gov, May 2019. | 3. Fast Company – "The search for new drugs is coming to your house", August 2018. | 4. CISCRP 2013 Survey. | 5. B. Adams, "Fierce Biotech", March 2017. | 6. Pharmpro- "Are Site-Less Trials the Future of Clinical Research?", May 2018.
CTTI Resources Help Organizations Implement Quality by Design
While the concept has been around for more than eight years, Quality by Design (QbD) is steadily becoming a popular approach used in today's clinical trials. More and more sponsors are adopting QbD—a collaborative approach to identifying and managing "errors that matter," or those errors that matter to decision-making during a trial—because of its many benefits: simpler trials, collecting data that is fit-for-purpose, better patient safety, and reduced patient burden.
QbD encourages upfront interaction between all stakeholders including sponsors, sites, patients, and others, so it is important that we are all familiar with the concept. Since 2011, the Clinical Trials Transformation Initiative (CTTI) has worked on developing resources that will help individuals and organizations learn about QbD, and how to implement QbD principles into clinical trials.
CTTI's recommendations and comprehensive QbD toolkit provide a framework for engaging in proactive dialogue, rewarding critical thinking, and rigorously evaluating the design of each study to ensure that all planned activities and data collection are essential to the trial's end goal. During these upfront discussions, site representatives can provide unique and important insights on study feasibility, burden of scheduled visits and procedures, and relevance of endpoints.
As part of the toolkit, CTTI provides a Principles Document outlining nearly 30 critical-to-quality factors in areas such as feasibility, patient safety, and protocol design. This tool can be used by sites, sponsors, and other stakeholders to identify and prioritize critical-to-quality factors of a trial, and periodically review these factors to determine whether adjustments need to be made.It is no surprise that the QbD recommendations, Principles Document, and other materials saw more downloads on CTTI's website in the past year than any other set of resources—QbD is increasingly becoming an important concept within clinical research. Because of this, we are currently developing new case studies, models, and other assets to help further drive the implementation of QbD. With CTTI's existing and upcoming resources, sites, sponsors, and other industry stakeholders will have the tools and confidence they need to implement QbD into their trials.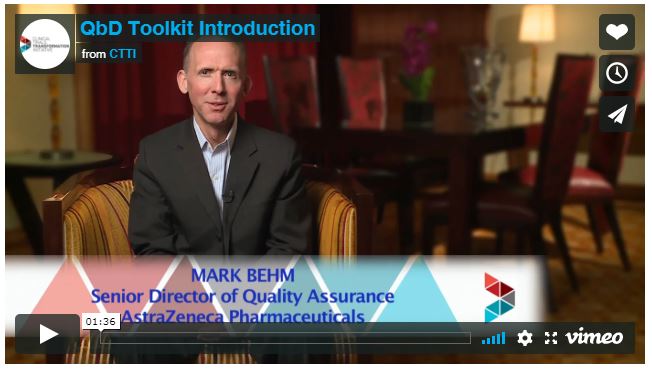 Successful Techniques for Accelerating Recruitment (STAR)
Power to the Patient: Recruitment in Oncology Trials
Typically, an article about oncology patient clinical trial participation would start by stating that only 2-5% of oncology patients participate in clinical trials, which is a dismally low percentage. However, new research involving almost 9,000 patients spanning 15 years found that this number is likely closer to 8%. Dr. Joseph Unger, the health services researcher and biostatistician who led the study, "indicated that this is because about twice as many patients participate in pharmaceutical company sponsored trials than government sponsored trials, a factor which is often overlooked."
While this is a remarkable improvement – a potentially quadrupled participation rate! – it also acts as a stark reminder that even this increase leaves out more than 90% of the oncology patient population.
There are many contributing factors to the lack of participation. Dr. Unger noted a need to revisit the way the clinical research industry navigates oncology patient clinical trial participation: "Most of the time it's not up to the patient. Instead, structural and clinical barriers are the reasons more than 3 out of 4 patients do not participate in trials." While factors like qualifying for and proximity to available clinical trials play a significant role, patients sometimes act as their own barrier: they only choose to participate in a trial half of the time the opportunity is presented to them.
How can industry navigate these barriers to participation and contribute to increased oncology patient recruitment?
Give (more) power to the patient. When recent research shows that almost 25% of oncology patients are deemed ineligible for a trial when they apply, we cannot ignore the need to revisit eligibility criteria. Allowing patients with "well-managed comorbidities to participate in cancer clinical trials" would open up clinical trial participation as a care option to thousands of patients each year.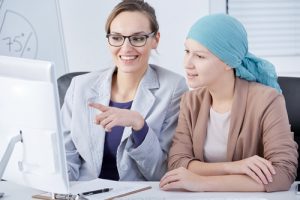 Furthermore, consistently excluding oncology patients with particular comorbidities may have the undesired outcome of skewing participation data and decreasing participation among minority populations who experience those comorbidities more frequently. This highlights how strict eligibility criteria not only impact oncology patient participation, but also contribute to diversity issues in clinical trials.
Sites can give power back to the patient in smaller ways. Providing patients with ample information about available clinical trials, assisting them in finding clinical trials to apply for, and leaving time in scheduled appointments specifically to answer questions about this care option go a long way. Providing your patients with a number to call and an informed clinician who spends time each week returning these calls and answering questions may also help. Ensure that your organization is making the time and not expecting clinicians to squeeze an activity as important as addressing the concerns and needs of the patient into the time allotted for everything else that happens during an appointment. The unknown is often scary; the more we familiarize patients with clinical trials, the more likely they will be to want to participate.
With nearly 1 out of 3 people in the US diagnosed with cancer in their lifetime, it is imperative that we address participation barriers quickly and proactively. No other therapeutic area offers such incredible opportunity to improve the lives of patients. SCRS' call to action: Schedule time to sit down with your researchers and executive teams to identify areas where your site – or sponsor/CRO – can bring clinical trials as a treatment option to 9%, 10%, 20% and more of oncology patients.
JOIN US AT AN UPCOMING SUMMIT
Founded in 2012, SCRS is a global trade organization that unifies the voice of the clinical research site community to create greater site sustainability. Representing over 9,500 sites in 47 countries, SCRS membership provides sites with a community dedicated to advocacy, education, connectivity and mentorship. SCRS is an influential voice for sites and an active partner in industry-wide initiatives and dialogues focused on improving the clinical research enterprise. Our Voice. Our Community. Your Success. Join the community.