June 2019
Welcome to the June issue of InFocus, where we provide insights and solutions to help sites and other stakeholders ensure site sustainability.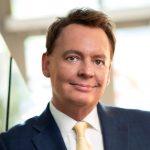 Some people work meticulously to become experts in their profession, while others seem to have a natural intuition that guides them. With a track record of diligence and a proclivity for work in clinical trials, Mark Hanley demonstrates both qualities.
Mark acquired the site network Clinical Research Advantage (CRA) – now a part of the Synexus family – 12 years ago. Though he was familiar with the healthcare field, this was his first exposure to the clinical research industry. Mark quickly grew to love the industry and eventually facilitated the merger of CRA with Radiant Research and Synexus to create the largest global site network (Synexus is now a part of the site network, Accelerated Enrollment Solutions (AES)). In 2018 Mark began a new venture, founding telehealth provider VirTrial.
"As is occurring in many industries, technology is taking on a greater role within clinical research," Mark said. Some organizations are taking technology to the extreme by attempting to create "site-less" trials – also referred to as decentralized or 100% virtual trials – which utilize no sites or a single metasite. This model would greatly impact site sustainability and decrease the number of trials sites are awarded.  "We can't remove technology from clinical research, nor do we want to. Instead, we can advocate for the thoughtful implementation of technology with the goal of increasing site success, not eliminating the use of sites."
This was, in part, Mark's inspiration for founding VirTrial. The company's vision is to create hybrid studies by replacing 25-40% of standard trial visits with virtual visits. VirTrial offers access to a telehealth platform customized for use in clinical trials that can be accessed on the user's personal mobile device.  Familiarity with a device that connects the patient to the study care team without having to carry around and learn an additional device improves user satisfaction. "We can turn the threat of site-less trials into an opportunity by embracing the change and learning how to use it to our advantage to create a voice within the site industry," Mark shared. "Technology isn't going away, and it will be beneficial to find the most productive way to implement it instead of fighting against an inevitable reality."
VirTrial is navigating an aspect of the industry that was untouched prior to the company's founding. When asked about his experience navigating these uncharted waters, Mark responded, "People are generally averse to change, and I expected this to be challenging. We are doing it despite the challenge because we truly believe that the future of clinical research is in hybrid trials. Sites have the opportunity to be at the forefront of this shift, and we want to support them in getting there."
A need to improve communication and general ease of access on all sides of the industry is a topic that comes up often when discussing industry challenges. This is not specific to clinical research – everywhere we look we see people using their cell phones to order groceries or clothes, to schedule doctor or haircut appointments, to post pictures of their travels or discover new music. "People have demonstrated a preference for consolidating their activities and efforts," shared Mark. Nevertheless, the power and inherent necessity of human connection have not changed. Studies have proven the need for co-regulation to promote a healthy nervous system, such as what patients feel when meeting with their doctors face-to-face or having a phone call with them. This need for connection is hard-wired in all of us and conflicts directly with a site-less trial model.
A hybrid approach to virtual trials honors both the relatively new desire to consolidate our lives by giving patients the ability to conduct certain trial visits via their phones or computers as well as the much-needed in-person interaction with their care team. "We understand the frustrations with technology," Mark said. "We designed our telehealth platform from the site and patient perspective, as we have all literally been in the sites' shoes." VirTrial's model standardizes the introduction of a virtual component to clinical trials and allows sponsors and CROs to continue working with the sites they are accustomed to. As a new Global Impact Partner (GIP), VirTrial is also putting resources toward SCRS in support of the site community.
When asked what piece of advice he would offer to sites to remain sustainable, Mark unsurprisingly said, "Embrace technology. Sites don't have to implement every form of technology available to them, nor should they. The process of introducing new technology to any business is time-consuming and can be daunting. As long as you are thoughtful about what you embrace and ensure you are lining your site up to have the competitive edge in the future clinical research space, technology will be a good friend to you."
Is the Budgeting Dinosaur Age Coming to an End?
SCRS has tirelessly advocated for timely site payment, with founder Christine Pierre speaking on the importance of monthly payments for years prior to SCRS' founding in 2012. The frequency with which sites are paid correlates directly to their ability to effectively and sustainably conduct clinical research.
Twenty years ago, sites recorded study data on paper and entered the data into computer programs manually. As a result, they were frequently behind on data entry. In response, funding partners adopted quarterly payment terms. At the time this made sense – sponsors and CROs were simply reflecting the lag time in data entry within their payment terms, which resulted in sites receiving payment around the same time that funding partners received the data.
As technology changed the data collection process within the clinical research industry, the way sites entered and submitted data changed drastically. Today, sites can enter and send data to funders with considerably less lag time. There is always room for improvement – sometimes data are not entered in real time, which contributes to payment delays. Historically, however, funding partners have not matched sites' progress in data entry with improved payment terms; as recently as 2016, 66% of sites had only 3 months or less of operating cash in the bank.
Fortunately, SCRS' 2018 Site Landscape survey reflects promising improvement: in 2018, just over 50% of sites reported having 3 months or less of operating cash. The industry is catching up as sponsors and CROs increasingly hear and respond to site needs. SCRS continues to advocate for funders to match their payment timelines to sites' improved delivery timelines and processes.
Similarly, the number of sites that reported receiving monthly payment terms grew by 21% in 2018, with 38% receiving monthly payment terms compared to only 30% in 2017.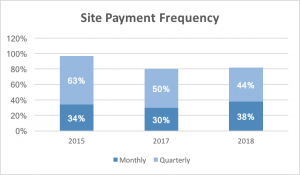 Any employee would balk at being asked to receive their paycheck once every 3 months. It would make mortgage, utility, transportation, groceries and other life expenses incredibly difficult to plan for. The employee would likely have to pay for many expenses on a credit card that would be paid off once their salary was received. The same dynamic plays out in the world of clinical research. While it is encouraging to see a 12% improvement in quarterly payment terms (the hope being that the 6% of sites no longer being paid quarterly are now being paid monthly), it remains troubling that an antiquated payment model is still being utilized despite the improvements that sites have made in data delivery.
When it comes down to it, sites are hired to provide quality, reproduceable data by conducting clinically sound research. It makes sense, then, to tie improvements in data quality and delivery to more frequent payment terms. SCRS is aware of many key sponsors and CROs that have made great strides to reflect the site perspective in their payment terms, including 2018 Eagle Award winners AstraZeneca and Syneos Health. SCRS will continue to advocate on behalf of the global site community for improved payment terms while providing sites with the support and education needed to give their funders the reliable data they need. Together we will work tirelessly to ensure this trend continues in the right direction.
Successful Techniques for Accelerating Recruitment (STAR)
Enhancing and Empowering Diverse Patient Recruitment
In 2017, SCRS took a strong stance on diverse patient recruitment with the creation of the diversity initiative to evaluate and measure the inclusion of diverse populations in clinical research. Our extensive work in this area has led to the publication of a white paper focused on factors that help drive success in recruiting diverse patient populations. The FDA emphasizes the importance of recruiting diverse patients and provides guidance for doing so. It has recently published additional calls for diverse patient recruiting.
There are several things that a site can do to position itself to better recruit more diverse populations for clinical trials. First and most foundationally, the site must be committed to putting forth the needed effort. Some sites may experience difficulty recruiting diverse patient populations due to their geographic location. In this case, commitment can be demonstrated by providing transportation for potential patients or providing staff with access to a vehicle to make patient visits, as an example. If a site has demonstrated a commitment to increasing their variety in culture and race in their trials, they are more likely to access these populations. Commitment is key.
Incentives for recruiting diverse patients can be offered to staff and patients. When done appropriately and within ethical guidelines, certain incentives can help bring patients in and keep them, while also motivating staff to recruit more effectively. It may seem obvious, but hiring staff that are diverse, culturally sensitive and speak the necessary languages also has a significant impact on the site's ability to recruit diverse patient populations.
Prioritizing a connection to the community has also been shown to be a successful method for increasing diversity among trial participants. This connection to the community not only opens up a new potential recruitment source but also establishes an additional level of trust among diverse populations within your own communities.
While it is important that sites prioritize diverse patient recruitment, they should not underestimate the importance of recruiting within their white population. Getting accurate estimations of a populations' racial/ethnic diversity can help a site target the appropriate ethnic groups when performing recruitment measures.
SCRS continues to promote diversity in conjunction with our multi-stakeholder partners to continue to move the needle and provide sites with the tools and information they need to be successful in the mandates set by governing bodies. Remember that diversity in clinical trials is a global issue. Any site in any location can look to the techniques here and in our white paper to increase their knowledge about diverse patient recruitment in order to enhance the quality and yes, diversity, of their clinical trials.
Call to Action: 
Ensure that your staff is diverse, culturally sensitive and speaks the languages of the patient populations you are targeting. If cultural sensitivity is found to be lacking or language barriers exist, provide any training necessary to prepare your staff to engage with diverse patients.
Put plans, incentives and procedures into place that encourage and focus the staff on recruiting your community's diverse population targets.
Understand the demographics of your community. Conduct necessary research and become involved in your community. This will build trust and understanding within your targeted populations.
Amici Clinical Research
One of Dr. Robert Falcone's guiding principles in his work within the clinical research industry is, "Just because that's the way it has always been done doesn't mean that's the way it should continue to be done".  Dr. Falcone is a full-time Principal Investigator and Chief Medical Officer at Amici Clinical Research, which he founded in 2015 alongside Dr. Anthony Frisoli.  In addition to excelling in clinical trial performance at the site level, Amici is involved in several industry-wide initiatives to improve clinical trials on a global scale.
Amici has partnered with CTTI, a Duke/FDA-sponsored initiative, on projects including the Investigator Site Qualification, Investigator Community, and Quality by Design (QbD) which influence research practices on a large scale.  Their innovative approach to medical record retrieval for clinical trial patients led to placing as an SCRS Site Tank finalist in 2018; they are working to further develop this approach in 2019.  In addition, Amici is currently working with several top pharmaceutical companies performing consulting work, including protocol feasibility analysis. Christine Hildebrand, PA, Sub Investigator and Clinical Operations Lead at Amici, has more than 12 years of clinical trial experience at the site level and is excited to be working with Amici on their shared vision of helping to shape the future of clinical trials.  It is not often that a small, dedicated research site has the opportunity to be intimately involved in industry-wide initiatives, but Amici remains committed to thinking outside the box and working with industry leaders to reduce some of the inefficiencies that have become commonplace in the conduct of clinical trials.
Chief Executive Officer David Rodin is a Lean Six Sigma master black belt in process improvement and has a strong background in Manufacturing Engineering and Operations Management.  He worked in Development Operations at Merck and Pfizer for 16 years prior to his employment with Amici Clinical Research.  He strongly believes that almost every process we utilize within the clinical research field can be dramatically improved and simplified. A recent example is the development of an effective and efficient temperature monitoring process, which Amici uses to track temperatures for investigational product and laboratory samples at ambient, refrigerated, and frozen temperatures. The monitoring system leverages technology to stream and record continuous temperature tracking from temp tiles located in critical areas at the site, and alerts the staff on their cell phones if the temperature threatens to go out of range. The site is then able to correct the temperature before an excursion occurs.  Although some sponsors prefer to use paper temperature monitoring logs and systems, once they see Amici's process they are consistently impressed and inclined to permit its use.
Christine Hildebrand explains, "In all areas of our business, we are always seeking a better way to perform and develop our processes to support high standards for success and efficiency." Amici looks forward to the future with optimism and is motivated to continue to shape the clinical research industry with the goal of leveraging technology and process improvement to bring safe and effective medications to market sooner to help those in need.
Amici Clinical Research is a multi-therapeutic, fully-dedicated research center in Raritan, NJ, founded and designed from the ground up by clinicians and pharma/research veterans. It constantly strives to improve and advance operations both internally and across the industry.
JOIN US AT AN UPCOMING SUMMIT
Founded in 2012, SCRS is a global trade organization that unifies the voice of the clinical research site community to create greater site sustainability. Representing over 9,500 sites in 47 countries, SCRS membership provides sites with a community dedicated to advocacy, education, connectivity and mentorship. SCRS is an influential voice for sites and an active partner in industry-wide initiatives and dialogues focused on improving the clinical research enterprise. Our Voice. Our Community. Your Success. Join the community.