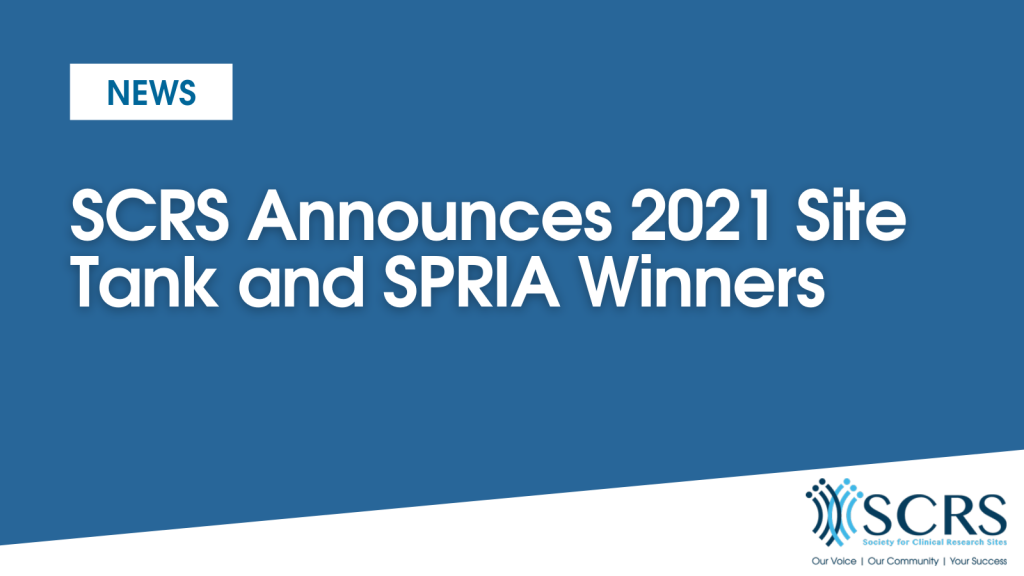 Contact:
SCRS Communications
Society for Clinical Research Sites
410.696.5080 x150
FOR IMMEDIATE RELEASE
SCRS Announces 2021 SPRIA and Site Tank Winners
Hanover, MD, October 7, 2021 – The Society for Clinical Research Sites (SCRS) has announced that Elligo Health Research and Centennial Medical Group are the respective winners of the Site Tank award and Site Patient Recruitment Innovation Achievement Award (SPRIA).
Site Tank, sponsored by Pfizer, recognizes a research site that has developed an innovative technology concept designed to enhance, empower and improve clinical research. Following presentations by the finalists at the 2021 Global Site Solutions Summit, the judging panel selected the winners of each award, which were announced at the Eagle Award Gala to more than 800 industry attendees. 
Raj Sharma, MBA, CPA, representing Elligo Health Research won the Site Tank competition with Root, an AI-powered virtual assistant designed exclusively for clinical research to enhance patient experiences while reducing work for clinical research site employees.
"Clinical research sites invest enormous amounts of resources towards patient engagement, but instead can utilize cutting-edge technologies, including Elligo's virtual assistant, to help reduce inefficient communication and administrative burden to manage participants at scale across multiple studies," said Elligo Executive Director of Digital Strategy Raj Sharma. "Poor communication is one of the top patient complaints in healthcare, and we're excited to have SCRS's support as we're working toward increasing access, awareness, engagement for clinical research and providing and developing a more personalized participant experience with millions of patients across the world."
Sponsored by StudyKIK, SPRIA recognizes a research site that has developed and implemented an innovative patient recruitment program. Three finalists were chosen by an independent judging panel. After the finalists presented their plans at the Global Site Solutions Summit, the winner was chosen by a panel of judges. In assessing the plans, judges look for innovative patient-directed initiatives that were unique, effective and take into account the campaign response.
For SPRIA, Dr. Steven Geller representing Centennial Medical Group presented a mobile patient recruitment vehicle that enrolled subjects for rapid COVID-19 testing. The vehicle was able to travel to underserved areas, which also helped enroll a diverse subject population that exceeded the Sponsor's diversity goals as well as the county and national averages for diverse patient population representation in clinical trials.
"Centennial Medical Group thanks SCRS for this tremendous honor," said Dr. Geller. "We hope that this idea of mobile testing and research recruitment will be further expanded by many SCRS member sites as we have found that this approach leads to faster recruitment and more diverse recruitment. By bringing clinical research closer to potential research subjects, we increase patient centricity and reduce the burden of participation for these subjects."
"These awards are an opportunity for sites to gain recognition and share great ideas with other sites and industry stakeholders," said Jimmy Bechtel, Vice President of Site Engagement at SCRS. "Sites that participate in SPRIA and Site Tank proudly showcase their patient recruitment strategies and technological innovation and are noticed by leaders in clinical research. SCRS had many great submissions this year and we sincerely congratulate Centennial Medical Group and Elligo Health Research for winning the 2021 SPRIA and Site Tank award."
For more information about Site Tank, SPRIA, and the SCRS Global Site Solutions Summit, visit sitesolutionssummit.com.
###
About Society for Clinical Research Sites
The Society for Clinical Research Sites (SCRS) is a global trade organization founded in 2012 which represents over 9,500 research sites in 47 countries. SCRS' mission is to unify the voice of the global clinical research site community for greater site sustainability. As an influential voice for sites and an active partner in industry-wide initiatives and dialogues focused on improving the clinical research enterprise, SCRS membership provides sites with a community dedicated to advocacy, education, mentorship and connectivity. For more information, visit MySCRS.org.